Nike PSG Core Plus Tee - White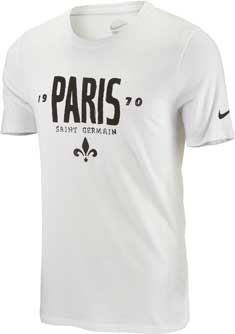 Nike PSG Core Plus Tee

Paris was almost forgotten among the worlds great cities when it came to soccer. Cities like London, Rome, Milan, Madrid, Sao Paulo, Rio de Janeiro, etc all had great teams who'd won a lot of trophies. Paris was the one exception among the worlds great cities. Enter PSG. Les Parisiens were a decent side but had never done much for their city and then some years ago under new ownership, they've taken a huge step forward. The men in dark blue are one of the most feared sides in the world today and their gear and apparel is in greater demand than ever before! Shirts like this Nike PSG Core Plus Tee are must-haves for fans! This white tee is something you can dovetail with your PSG Jersey over a month as you show your love for the French giants! The 100% cotton material is impressive while the font with "Paris" written across the center is a standout thing to see! Grab yours today from SoccerPro and show real support for the emergence of a great team from France's capital city! Shop now!