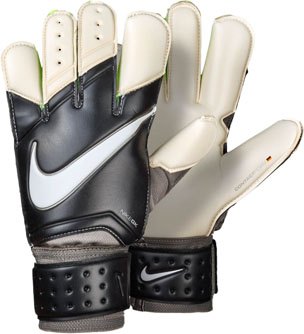 Nike Vapor Grip 3 Goalkeeper Gloves
Nike Vapor Grip 3 Goalkeeper Gloves - Black & White
You are all that stands between your opponent and your goal. You need some back up. Well your back up has arrived! The

Nike Vapor Grip 3 Goalkeeper Gloves

will always be there for you. These gloves are awesome. Put these gloves on and you will feel like a super hero who just put on his secret identity.




These gloves will enhance your performance while keeping your fingers safe at the same time. It does this with Grip3 technology that will wrap your thumb, forefinger, and pinky. We have all seen how nasty some goalie gloves can get over time. These gloves have a solution to this. The ventilated mesh material will create a cool airflow between your fingers for some much needed breathability. These gloves will always have your back, even when no one else does. What are you waiting for!? Get your pair today!