Nike Womens USA Away 3-Star Tank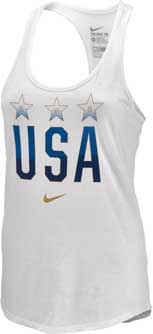 Nike Women's USA Away 3-Star Tank
The USA Womens National Team won the race for the 3rd star, winning the World Cup in Canada. You can now show your support for the USWNT with the
Nike Womens USA Away 3-Star Tank.
This tank is part of the Speed Blur USA set, and it looks awesome. Nike always does a great job with creating comfortable apparel, and this tank is a perfect example.
This Speed Blur features the blue and white coloring of the USA Away jersey. The top part of the tank is white, and transitions to blue the further down the shirt you go. The US crest is on the left chest with the new 3-star design. The Nike Swoosh logo is blue on the right side of the chest as well.
Get all of the best USA World Cup gear at SoccerPro.com