Puma Arsenal Away Jersey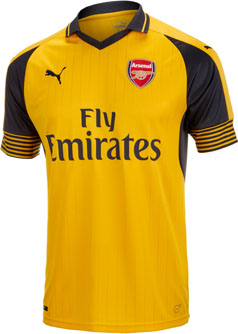 Arsenal Away Jersey

Arsenal is one of those teams that knows how to get it done on the road. That's why they have won the most FA cups of an English team. With guys like Mesut Ozil and Alexis Sanchez Arenal is looking to do a lot more then win another FA cup. With the type of talent they have anything is a possibility, even a treble. Make sure you support Arsenal by rocking the

Puma Arsenal Away Jersey

during match days.

Puma did a great job designing this jersey. It's one of the best away jerseys in the game today. The ebony details really stick out on the spectra yellow jersey. Arsenal's team crest can be found on the left side of the jersey while the Puma logo is located on the right. This short sleeved jersey is very comfortable and will have you looking like a true Arsenal fan. Get yours today!