2015/16 Puma Arsenal Graphic Fan Tee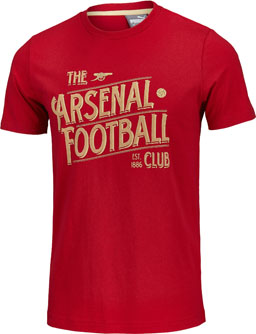 Puma Arsenal Graphic Tee

These are glorious days for fans of Arsenal Football Club. The club is back to winning trophies, back to playing champagne football, back to slaying giants, back to being the best of the best. Arsenal FC is back! There is no better time to be an Arsenal fan. This set of Gunners have what it takes to surpass even the Invincibles generation. This set have the viciousness and ruthlessness needed to be European champs and stamp their mark as the best club in the world. There is no better time to wear your finest Arsenal Soccer Gear.

Gear like this chili pepper red Puma Arsenal Graphic Fan Tee will show everyone that you're a fan of the biggest club in London! This tee gives you the opportunity not only to show your fanhood but to establish your great sense of style. This 100% cotton top is 100% beautiful. Enjoy the glory of Arsenal and show it off to all who see you, get this tee today.