Puma Borussia Dortmund Home Jersey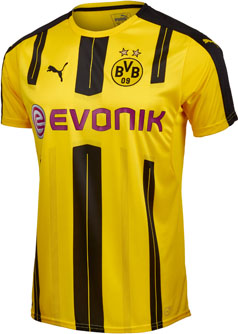 BVB Home Jersey

The past decade has been kind to Dortmund. Playing in the Bundesliga the competition is as good as anywhere and Dortmund has seen incredible success especially since the 2012 season. You can show your love for this exciting club with the

Puma Borussia Dortmund Home Jersey

!




This yellow and black jersey has seen a rise in popularity in the last decade and why not?! Dortmund is still a prominent figure in the Bundesliga and this jersey is one of the most noticeable. The BVB team crest is located across the left side of the chest while the Puma logo is opposite to that on the right side of the chest. So go ahead and order yours today and get ready for another exciting season from Dortmund!