Puma evoPOWER 1.3 Match Ball - White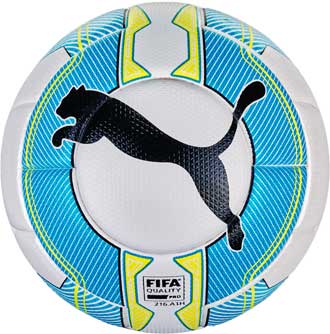 Puma evoPOWER 1.3 Match Ball

Puma is one of the most historic soccer brands. They have been creating some of the most influential and creative products in the game. The

Puma evoPOWER 1.3 Match Ball

is an example of them continuing this tradition of soccer greatness. This ball is mesmerizing! One look and you are done for! This soccer ball will not only improve your game but it will improve your dull selection of soccer balls and add some spice to it.




This ball has got it all. Style, durability, and performance. The design is awesome! The white and atomic blue color combination is definitely a great choice by Puma. It really makes the features on the ball stand out well and it all goes together. If you don't trust us, take FIFA's word. FIFA has gave this ball the highest level of performance after running a series of tests to ensure that this ball is amazing! The high quality rubber bladder and PUMA Air Lock valve will give this ball excellent air retention so don't worry about having to fill it with air all the time. There is so much to say about this ball but you would be better just seeing it for yourself! So purchase yours today!




This ball is awesome! Puma has a lot of awesome soccer balls! Check out our selection of

Puma Soccer Balls

at SoccerPro.com.