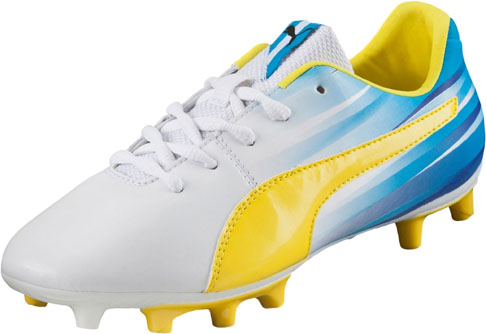 Puma Kids Aguero V2 FG Soccer Shoes
Puma Kids Aguero V2 FG - White
These shoes are the real deal. If you don't believe us just ask Aguero, he has been dominating with Puma shoes for a while now. The

Puma Kids Aguero V2 FG Soccer Cleats

are here and they are ready for action! If Aguero gives them the stamp of approval they must be amazing. We learn from the pros, we play like the pros (or at least try to), so why shouldn't we dress like the pros. With these shoes people might mix you up with Aguero.




These shoes have got all of us flustered at SoccerPro! Your kids are sure to fall in love with them just like us. The color combination for this shoe is mesmerizing! White and Blazing yellow will really have your kid standing out. That is unless they are already scoring goals like crazy with these shoes! Purchase your pair today and see for yourself how awesome they are!




If you were interested in these shoes you will love our selection of

Puma Soccer Cleats

at SoccerPro.com.