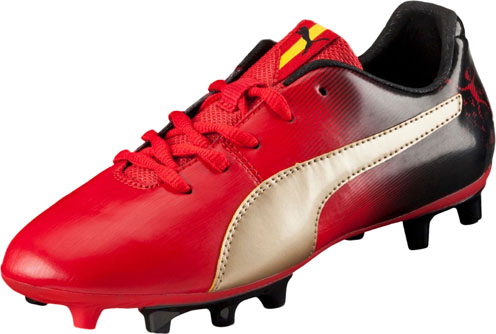 Puma Kids Cesc V2 FG Soccer Cleats
Puma Kids Cesc V2 FG Soccer Cleats
We all remember how wild our imaginations were when we were kids. Whether we were a man on the moon or Ronaldo scoring a goal, the possibilities were endless. There is nothing wrong with having someone to look up to, especially if that person is respectable. There are not many soccer players more respectable than Cesc Fabregas and he had his hands all over the design of these beautiful shoes. The

Puma Kids Cesc V2 FG Soccer Cleats

are a great spark to the imagination and all the wanders that your kids could do in these shoes.




Just like our imaginations the possibilities are endless with these shoes. The color combination of "High Alert" Red and "Team" Gold will really catch everyone's attention. These shoes aren't all about the looks though. They also are very durable and will give you great support while staying comfortable. What else is there to want in a pair of boots. Get your kids a pair today!




If you were interested in these shoes you will love our selection of

Youth Soccer Cleats

at SoccerPro.com.