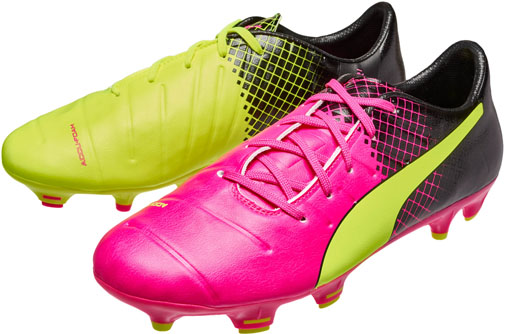 Puma Kids evoPOWER 1.3 FG - Pink Glow & Safety Yellow
Puma Kids evoPOWER 1.3 FG - Tricks
For most of us we must sacrifice accuracy for some power behind our shots. It is a decision we must make; whether we want to strike it hard past the goalie or if we want to place the ball in the corner. While most of the time there is a right answer, sometimes only the perfect shot will score. The

Puma Kids evoPOWER 1.3 FG Soccer Cleats

are here to help you strike the perfect shot. These shoes will help your kids to master striking the ball and this is essential to anyone's path to becoming a goal scorer.




You might be wandering what the "Tricks" in the title for these shoes means. What that means is that each shoe will be a different color, so your left shoe will be "pink glow" and your right shoe will be "safety yellow". This very unique feature is catching on with players all around the world and we love the idea here at SoccerPro. The technology incorporated in these shoes is awesome! In order to optimize power and accuracy Puma uses a GSF outsole that will allow your foot to bend in its natural motion in order to gain more power. There are many more features that make this shoe so awesome so purchase them today and see for yourself!




If you liked these shoes, you will love our selection of

Puma Soccer Cleats

at SoccerPro.com.