2015/16 Puma Newcastle Away Jersey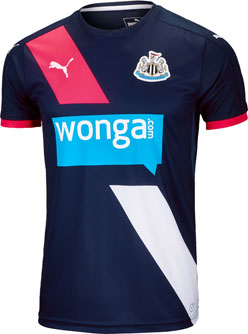 Puma Newcastle Away Jersey

Newcastle will be looking to claim a place near the top of the table after falling short in previous seasons. The club have a solid goalkeeper in Tim Krul, while a host of others are looking to make an impression during this campaign. If you are a fan of Newcastle, show your support with the

2015/16 Puma Newcastle Away Jersey.

This shirt looks great and will let you show your pride for the club.




The away kit for Newcastle this season is very unique. Its main color is Peacoat, although Bright Plasma and white are also present. The jersey has a diamond-shaped design, that is based upon Puma's Swerve Teamwear. This is certainly a jersey that will turn heads.