Puma Tournament Goalie Jersey - Black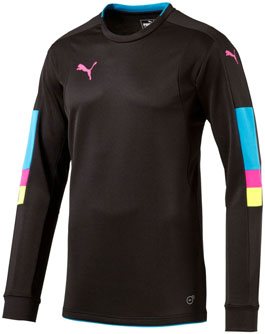 Puma Tournament Goalie Jersey

There is no denying the excellence of this beautiful jersey! When it comes to soccer knowledge there is no one better to trust than Puma. They have been doing this for the better part of a century and they are not slowing down anytime soon. The

Puma Tournament Goalie Jersey

is just that constant reminder of why Puma soccer gear is so reliable. This all black jersey looks sharp as can be and will bring out your goalie super powers! You may not be able to fly or have X-ray vision but you will be comfortable diving back and forth making those saves you have always dreamed of!




This jersey has got everything you could ask for in a goalie jersey. The all black jersey will go great with anything and it just looks very professional out on the pitch. Aside from the all black color, the white Puma logo is located across the right side of the chest serving as a seal of excellence. The DRYcell technology will keep you comfortable in any weather conditions by giving the jersey excellent breathability. After hearing all of this how could you not want this jersey right at this very moment! All your dreams can come true with the push of a button. Don't wait! Get your jersey today!




If you enjoyed this awesome goalie jersey you will love our selection of

Soccer Goalie Jerseys

at SoccerPro.com.