Reusch Pulse Prime R2 Goalie Gloves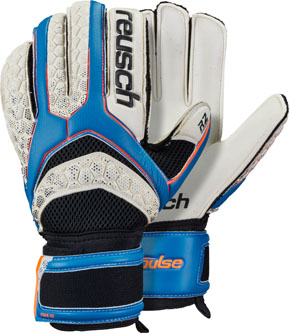 Reusch Pulse Prime R2 Goalie Gloves

The soccer field is a place where magic happens. Memories that will last a lifetime are made on the field. The

Reusch Pulse Prime R2 Goalie Gloves

will definitely make some good memories! You may not remember what these gloves look like in thirty years, but you will remember the ridiculous saves you made and the games you won because of them! Being a goalie is a tough job and you deserve the best. These gloves are as good as they get!




These gloves are a sight to see! The white and electric blue colors will definitely catch your attention, and everyone's attention for that matter. Goalkeeper gloves have been known to make your hands a little sweaty. If you are a goalie you know this all too well. Now Reusch has a solution to this problem with the AirVentSystem. This technology will keep your hands from getting too sweaty and will allow them to breathe while inside the glove. These gloves have got it all! Get your pair today and start making some awesome memories!




While you are here you should check out some more of our selection of

Goalie Gloves

at SoccerPro.com.