Reusch RE:LOAD Supreme G2 Ortho-tec Goalkeeper Gloves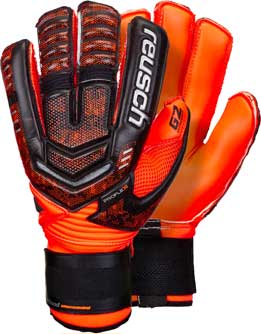 Reusch RE:LOAD Supreme G2 Ortho-tec Goalie Gloves
Goalkeepers are tasked with a very hard job, but with the right tools everything can be made easier. Goalkeepers look for gloves that provide them with a firm grip on the ball, support their fingers and look cool while stopping the opposition. With the
Reusch RE:LOAD Suprem G2 Ortho-tec Goalie Gloves
all of those requirements are fulfilled and goalkeepers can be certain that they are using some of the best gloves out there!
The support and comfort provided by these gloves is superb. While wearing them even the hardest knuckle ball will feel like an easy fly ball thanks to the finger and wrist supports. To make them even better, the black and orange coloring will standout and forwards will remember you not only because you stopped all of their goals, but also because of your keen sense of style. What are you waiting for? Grab a pair of these today. Order now!
While you are here checkout our complete selection of
Goalkeeper Gloves
at SoccerPro.com!