Under Armour Cruz Azul 3rd Jersey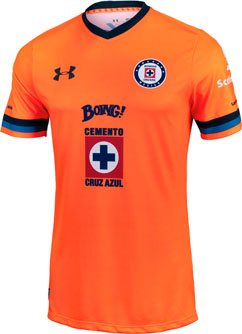 UA Cruz Azul 3rd Jersey

Cruz Azul might be one of the coolest names for a club, while also having quite a bit of success. They have won the CONCACAF Champions League, multiple Liga MX titles, and multiple other cups. If you are a Cruz Azul fan, check out the

Under Armour Cruz Azul 3rd Jersey.

This jersey is a true reflection of the club, giving a bit of extra flair to the 3rd jersey.




The 3rd jersey for Cruz Azul is a bit of extra pizzazz with its main color being Blaze, but Cadet also makes an appearance. Under Armour has their logo on the right side of the chest, while the club crest is on the left. The sponsors are of course on the front of the jersey, as well as the sleeves.