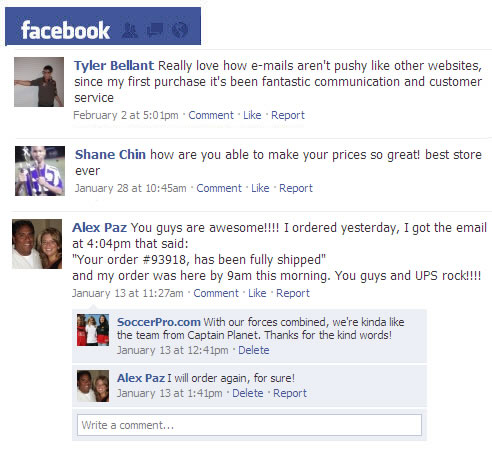 ---
"I am really looking forward to getting my gloves tomorrow. In all my excitement for tomorrow, I went back and read the email again, but this time actually read it. It is absolutely hilarious, I love the disclaimers at the bottom. Anyways thanks for the laugh…and the gloves." – Chris, GA
"Thanks for such a fast shipment! You guys totally rock! I can't wait to wear those bad boys." – Hokuto, TX
"Typically would never reply to shipping confirmations … but just wanted to say I enjoyed the writing below. And on a side note, soccerpro.com was the ONLY place I could find my little soccer player shoes that should fit him. He doesn't even care about the pink stripes. He just wants some "shoes with blades." Many thanks." – Kelly, WI
"Great news. I love the humor in your e-mail. You will be making a little soccer pro very happy to hear his shoes have been shipped! Have a great day. 🙂 " – Lilly, FL
"You guys rock!" – Alexander, MD
"Everything arrived in great condition. Thank you to all of the oompa-loompa-like * order processors. I had to write you to let you know that everyone at the office loves your confirmation letter." – Scott, SC
"You just made my day! I don't usually read these order confirmations but this one caught my eye. Thanks for having fun and a sense of humor!" – Diana, MD
"This is the only shipping confirmation I've ever received that had me laughing! Live long and prosper!" – Burroughs, PA
"OMG….you have no idea how easy it was…. thank you for making it so…and these follow up e-mails….LOVE THEM. My brother recommended your website and store…..and I AM SOLD! Very happy…with the service I cant tell you how much." – Melissa, AR
"omg warp speed shipping order one day arrived the next perfect fit!" – Dee, MO
"Tks for making that last min change to Vidic… My kids will be thrilled to get the jerseys…" – Rich, VA
"Correspondence with your company has been thoroughly enjoyable! and side note, I love my cleats! They came the day I was leaving for a tournament and they are AWESOME! Keep the loompas in order." – Kim, MI
"The type of service I got (including the comedy) was amazing. I mean, totally different and down to earth style of shopping. I loved it!! I told ALL my friends to order from you. I will definitely be ordering more from you, I think I can safely say that ALL my online soccer shopping will be from SoccerPro. That is a definitive, I have always been for the lookout for THE store, and I think this is it." – Amar B.
"I found the service to spot-on with the email notifications and I appreciate that. Way to be a pioneer!" – Jeff
"I got such a kick out of the description for sales/returns… very entertaining after dealing with the rest of life's seriousness! I will be sure to spread the word regarding this website! Thanks for the laugh!" – Erika
"If I had known how great you guys are, I would have done more of my shopping with you!" – Cindy H.
"The experience was great. The response time was good. When you found out that the goalie gloves were not in stock I received a phone call letting me know that they were coming from a different store and that the shipping charge would be refund." – Shawn M.
"All arrived on time and in great shape to provide a major Christmas smile! The customer service orientation and attitude of your company rocks!" – Vaughn W.
"I've never found an online vendor as friendly and personable as you are!" – Marie
"The kind of treatment that I have received from your company is non-existent in today's times. It is rare that a company make a customer feel good about purchasing from them. I will be a customer of SoccerPro as long as it is in business. Thanks for everything and I truly mean it!!!!!" – Lynda
"I just want to say that I actually enjoyed spending money on SoccerPro.com (how often does that happen?!?!). The humor used throughout all of the correspondence made it a truly enjoyable experience. I may just start ordering things I don't need just to get the e-mails! Thanks again!" – Carolynn
"SoccerPro has been the most interesting company that I have ever dealt with. You guys have made me laugh more than once." – Sylvia
"We have been Eurosport users for years. We have had NO problems with them ever. But, our transaction with you guys has been so positive and so fun that we are going to make the switch. Thanks again!" – Chris S.
"Thanks for making my semi-weary choosing of an online store an experience I won't forget. Well you had the most incredible deals on the items I was looking for, that was cool, but it can also make one wonder what they may be getting into. The contact emails from you really seemed genuine and friendly and help to set me a little at ease. 🙂" – James N.
"I totally received the shoes and they were perfect! We will for sure order from you all again – way more fun than the other boring sites." – Liz N.
"I'm greatly impressed with your service, quick shipping and communication and will definitely shop your site again. Thanks for making the experience easy and pleasant." – Cathy G.
"So far my total experience with SoccerPro.com and its reps have been stellar! My original shipment was processed in a timely manner, I ordered the wrong size but when I sent it back for an exchange, the service was prompt and the rep Kim I called into was super nice and fast with shipping out my reorder! I wouldn't change a thing! I'm only unsure about 'when' I would be coming back (not 'if'), as I don't normally buy a lot of soccer stuff for myself. So if the opportunity arises, you bet I'll be back! 🙂 Thanks again!" – Amy S.
"You have totally gone ABOVE and BEYOND my expectations – my small purchase – replacement screw in cleat studs. You not only made my day, my week, and my month! but totally restored my faith in internet shopping!!!!" – Dayna S.
"I am not much of an online shopper, in fact this is my second experience, and I have to tell you that you folks rock. I have never laughed so hard at your email jokes and I really appreciate your sense of humor and in fact I read the emails to all of the family." – Linda
"You guys are the most friendly, customer-oriented retailer on the face of the planet. I mean it." – Alex
"I have never used you before, but will never go anywhere else again. The way you handled my transaction was beautiful. A touch of flare that was fun! I told everyone about my experience last night and recommended you to all…What a fun purchase!!" – Melanie
"How refreshing to get such good service with a friendly twist. We have received our order with no hassles." – Jane
"Hey! Thanks for making me smile and laugh. I ordered from your store for the first time recently. Love your real language on the invoice and shipment details. Why is everyone else so stuffy?? Ha ha. Keep it real!" – Tina
"It was like a breath of fresh air working with all of you at SoccerPro. Keep up the great work by spreading smiles with your orders!" – Mary J.
"Shopping for gear and stuff can be rather tedious, so I like the amusement!" – Jennifer G.
"I was very worried today when I realized I had ordered the wrong size, but you treated me like a valued customer at some local small town store!" – Aaron R.
"We have been ordering from soccer.com for years. This is our first experience with SoccerPro and I must admit we will have many more to come. This is a wonderful, fun, great site. About 10x better customer service than Soccer.com and much more reliable. Thank you, thank you, my daughter is on cloud nine with her new cleats!!!" – John & Diane
"I have purchased soccer gear from other sites and stores. By far, YOU are genuinely the best!" – Lorena V.
"SoccerPro is easily my first choice after having ordered there for my first time. The process was simple, and the delivery was fast! What more could I want?! Thank you SoccerPro!" – Victor
"There were so many good things about my SoccerPro experience!! Lisa helping via email on a Sunday(!!!), going out to the warehouse to find the last pair and entering it in the computer, helping me find socks in a ginormous size , and the lollipop…. what a great experience." – Karen H.
"Your on the phone service was great, excellent connection to the online part of the store, seamless and perfect transition. I emailed and called and both interactions were exceptional." – Bret M.
"My experience was somewhat unique. My son ordered the gloves and you guys were out of stock. Instead of getting a email, you guys called me. Unreal, GREAT! Normally you get some robot email saying you are out of stock but this lady actually called and suggested another type of glove. Very helpful." – Hunt G.
"We received the shinguards yesterday. I want to personally thank you for your follow through on this matter. I only hope your management knows how well you take care of the customers when there is an issue. I again thank you for proving that there are people that are still willing to go the extra it takes to have a happy customer. There are not too many companies that would take such quick action to make sure a customer is satisfied. I will continue to shop from your site and have already let others know about the actions you and taken to rectify the situation. " – Gail R., Soccer Mom, New York
"We appreciated the personal touch of receiving a personal phone call to clarify our order. Keep that personal touch, it means alot in a world where service is largely a thing of the past." – Kenneth M.
"I had a great experience and will do business with SoccerPro again." – Rochelle J.
"Dear Soccer Pro: Your staff is fantastic! Yesterday I ordered new soccer shoes for my son and when I got home he informed me he needed the size down for fit. I got on the phone and called Soccer Pro and left a message of the change. Not only do they answer their phones, they promptly changed the order before shipping. When I called Kim today afraid of extra shipping charges on a wrong size she said she had it all under control. Service right here in America, and with people who care enough to check their messages daily.. WOW! I will be back!" – Sheila in Seattle
"I ordered my cleats from SoccerPro because you had a wide variety of women's and junior's (kids) cleats and there were many affordable options. I was pleasantly surprised with the promptness and help I was able to get over the phone – especially when I saw the shipping was FREE!" – Heather
"There is no place like SoccerPro in the United States. The selection and availability of items is second to none that I have found. Not many places have as large a selection for goalkeeper gear than Soccerpro. The 2 pair glove deals are also incredible." – Scott
"Excellent place to shop!" – Kaustubh
"I ordered from SoccerPro because of the price and free shipping. But I was even happier to find out that I could call about a question and you were very helpful…all of my kids and I enjoy looking at the great specials." – Isabel
"I chose SoccerPro because of the great selection of product. Your website was easy to use with no extra junk as teasers…I love it! I will continue to buy all footwear for soccer from your site only." – Ellen W.
"Thank you for your prompt, excellent service! I was very pleased with my experience. Just keep doing what you're doing." – Tatiana D.
"SoccerPro is such a great soccer store – I love the free shipping!" – Ralph
"My son found your website and you had the soccer cleats he wanted. Ordering from you was great. Delivery was fast and we will definitely be ordering again." – Tracy
"Ordering from you was well organized and fast and I have an overall high opinion of your store." – Ian
"This is a great site and I plan to purchase other soccer equipment in the future. The ease of ordering and speed of delivery were fantastic." – Chris
"You have pink cleats for little girls! I will definitely buy from SoccerPro again." – Becky
"I wanted to pass along that I had to place an order over the phone because I was having some issues with the website. I thought the person on the phone was very friendly and I will be ordering again." – Mike
"This is a fantastic store." – Roberto
"My son found some really cool looking shoes in on your site and they arrived here really fast. Not only was the price unbeatable, but by ordering online I was able to save major time by not having to drive to the local store. Thank you!" – Lisa
"I love your website. Period." – Samka
"I love SoccerPro and have added it to my favorites so I can just click to get to that site. I plan to order more as I have an older daughter that plays soccer all year round and SoccerPro has a lot of the things she needs that you can never find in the store. My experience was excellent! Thank you so much." – Debbi
"SoccerPro is an amazing online place to buy soccer stuff." – Anand
"SoccerPro – you are WONDERFUL!" – Judy
"Good service. Good prices. Good selection of soccer-related merchandise. Keep up the good work." – Nam
"Best place to shop online for me." – Branislav
"My order shipped the same day and I got it the next – I love it!" – Leinani
"SoccerPro, thank you for being a friendly company that actually cares about its customers." – Morgan W.
"I was referred to you by Zappos.com – you guys had the shoe I wanted in stock when no one else did. We have ordered from SoccerPro just once, but were very impressed with the product/service we received." – Jessica
"We liked the experience. We checked around other web sites, but yours seemed to be the best in selection and prices." – Tina
"I'm a little nervous about buying shoes online, since I prefer to try them on before I buy, but I was not disappointed at all in buying from SoccerPro. Everything worked out great." – Chris
"I like your merchandise and I was 'overly' pleased with SoccerPro." – Gina
"Rick in customer service was very professional. Even though there was a problem, I liked that SoccerPro called me and tried to resolve the issue." – Brent H.
"I found your website to be very reliable and provide great service. It's a very good website and i recommend it to my friends though I'm usually the one ordering for them." – Carlos I.
"SoccerPro Rocks. I recommend it to all my friends. Thanks a gazillion! There's not one thing I would recommend improving. Keep up the good work. Thanks." – Marshall
"I like everything–easy checkout, good selection of products, good prices on products and shipping, products arrived in timely manner and in good condition." – Karen
"Every time I go into the store in Columbia, the people are very friendly and the online experience is very easy to work with. Great store!" – Kyle B.
"I think SoccerPro is bad ass." – Jamie
"Your customer service was excellent. I was called because an item I had ordered was not in stock, so I was able to switch out the out-of-stock item with something else. I've been recommending Soccerpro.com to all of the soccer families I know. Love your free shipping!" – Aimee
"I have a high opinion of SoccerPro and I've recommended the website to every "parent on my children's soccer team." – Regan
"I had a very positive experience with you – my one experience involved the best price, quick delivery, and the product arrived in good condition." – Rick
"I really enjoyed shopping at SoccerPro because it was so easy online and more importantly was the only source for the toddler soccer boots I needed. Other sites offer only big kids. I wanted something for my 4 yr old." – Mohammed
"I had multiple orders and called you guys to combine them to get my coupon offer and you guys took care of it right away and with a friendly attitude. I have already recommended several people from our soccer club in Noblesville, IN to your site!!! I will be back!!!" – Khek D.
"You guys have a great site that I have recommended to many people…it's fun, fast, and you had what I needed." – Mary J.
"I really love your incentives, whether it be a percentage off or your clearance items section. I haven't had internet for a while but sometimes I just like to browse your store. Great job!" – Gabriel N.