Adidas' theme for next season's Real Madrid home and away kits is "only perfect counts". I find this incredibly on the nose as a summation of Real's philosophy, particularly after recent events. In 2014-15, Los Blancos were coming off La Decima, their tenth European title and the most of any club. The expectation was that manager Carlo Ancelotti and his phalanx of attacking talent would wreck Spain and the rest of Europe.
The problem? Barcelona, their eternal rivals, basically turned into Alexander the Great's army, circa 332 BC. Leo Messi and co. won the treble, meaning there were no major trophies for Real to get their hands on. Just like when Jose Mourinho was shown the door after their 2012-13 campaign ended title-less, Ancelotti (who has won the Champions League three times as a manager, by the way) was mercilessly fired. Despite finishing second in La Liga and making the Champions League semifinals, zero titles means you get unceremoniously dropped.
There are other rich, globally-branded clubs that are used to a Charlie Sheen, #winning lifestyle — Bayern Munich, Manchester United, and Barcelona, to name the biggest ones. I'm not saying these teams don't have high expectations or wouldn't can managers who don't produce trophies. It's just that Real treats their future success like a divine right of kings, which, maybe it is, considering King Alfonso XIII blessed them with the crown on their crest and the "Real" (meaning "royal") to their name in 1920.
But when "only perfect counts", that makes imperfection intolerable, making for a constant struggle to live up to your own impossible standard — especially when Barcelona are the ones playing perfect football. For now, we wait for next season to see if Rafa Benitez can have more luck being "perfect".
In the meantime, there are new jerseys to gaze upon, because adidas has released both the home and away kits for 2015-16.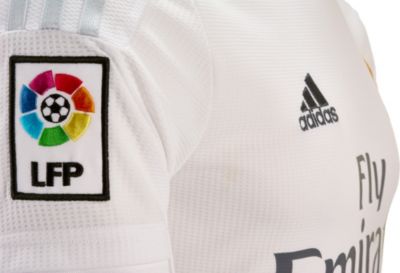 If you're Los Blancos, the home jersey pretty much has to be white, which is what we get, as usual. Adidas tells us the white symbolizes the next season as a "blank canvas for success". That regal Real Madrid crest sits on the left chest, heat-sealed with different textures to provide a more tactile feel when you get the shirt in your hands.
On the shoulders, adidas added silver grey three stripes for a little diversity on this pure white jersey. Moving to the inside of the neck, there is an inscription next to a mini version of the club crest that reads: "hala madrid y nada mas", or "Come on Madrid and nothing else". Not sure that translates very well, but I'm sure it sounds awesome in Spanish.
The away jersey features a more modern sensibility. Its color is Silver Glory, and the metallic tone is supposed to be an homage to the trophies Real has won and will continue to win. The crest is also sheathed in a monochromatic silver grey.
There is fluorescent yellow stripes on the shoulders to add a pop of color for a youthful feel. As with the home, the "hala madrid y nada mas" inscription resides on the inside neck.
Click the graphic below to read our series on Real Madrid's extravagant history.