Less than 24 hours after Borussia Dortmund's last-ditch, almost-successful second leg comeback at home against Real Madrid fell tantalizingly short, they signed one of Bundesliga's finest strikers in Adrian Ramos. He's no Robert Lewandowski, who is off to Bayern after the season, but he isn't so far behind either. Considering Ramos has pumped in 16 goals (one behind Lewandowski) for mid-table Hertha Berlin, we know the guy can score at an elite level. But exactly how well can he replace Dortmund's current striker?
Lewandowski is a true finisher up top that should find great success at Bayern, and Ramos is in a similar mold, albeit 3 years older. The 28-year-old Ramos does not have a long history of challenging as Bundesliga's top scorer, though. In fact, Hertha BSC has had trouble staying away from relegation the last few seasons. He has spurred his side on to league titles in Germany's second league, 2. Bundesliga, in 2011 and 2013. However, he only mustered 6 goals in 29 appearances in 2011-12, his last Bundesliga season, which saw Berlin relegated.
This season he has proven he can score in a top flight league, and his team will avoid relegation as well, but it is only recently that he has blossomed into a great scorer. This is not the case for Lewandowski, who dropped 22 goals (in 34 appearances) in the 2011-12 Bundesliga season and 24 (in 31 appearances) in 2012-13, not to mention 10 UEFA Champions League goals. So, he has had three straight seasons as a top-flight, consistent scorer now.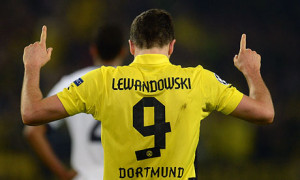 However, we all know goals aren't everything. So how do Ramos' other numbers compare to Lewandowski this season? In an extra appearance, Ramos has one less assist, with less shots, key passes, and successful dribbles per game as well. Pretty much across the board, he trails BVB's star. This could be due to a number of factors – one being the greater quality Lewandowski has on his team – but it's clear Ramos comes up short when comparing the two.
For Dortmund, when it comes to replacing Lewandowski statistically, this doesn't have to be done by Ramos alone. Other guys will need to step up. Young playmaker Marco Reus will only get better and they expect more goals from Pierre-Emerick Aubameyang and midfielder Henrikh Mkhitaryan. If they can get similar production from Ramos next season, other guys' improved play (assuming BVB can avoid injury more successfully next campaign) can help fill Lewandowski's boots.
The issue is, can Dortmund necessarily be guaranteed of similar production from Ramos? At 28, is he a late-bloomer or was this season a blip on the radar of a decent, not great striker? His roll has slowed lately with only 2 goals in his last 9 games, so maybe it's the latter. Or maybe he will only feed off the better talent behind him and have a 20-goal season. It will be interesting to see how he performs at this summer's World Cup for Colombia (especially since an injured Radamel Falcao leaves an open forward spot), and if he can continue playing well into the next Bundesliga campaign.
Either way, Dortmund made the right play here. You lost the best striker in the league to the club above you? Then you just take the next best from the club below you. Ramos may not be of Lewandowski's quality, but this acquisition is a solid start in plugging the gaps at Dortmund.