After a hard fought victory against Liverpool that finally had Arsenal sitting five points clear of everyone in the league table, people started to finally give the Gunners the attention that they have deserved. Minus the opening day defeat to Aston Villa, Arsenal have been flying through their opposition and making anyone that has ever doubted Arsene Wenger look foolish (including this guy). However, this upcoming fixture against United has implications that could greatly affect both teams and their immediate future.
If Arsenal continue to roll on and Aaron Ramsey continues to score at a frequency befitting a $100 million transfer to Spain, then this league title might be out of reach for everyone by Christmas. Arsene Wenger is proving that he sticks with youth because he knows they will eventually prove their worth and that, when given transfer market money, he does better than most top-tier coaches when bringing in players (especially if we let him have a mulligan with Gervinho). If his squad continues to win and he is able to do so with some serious rotation in his starting eleven, Wenger will win a league that was always thought to be just out of reach and he will probably be able to make a pretty penny off of a few of his fringe players. Topple United, the current title-holders, and the road to the title becomes Wenger's to control.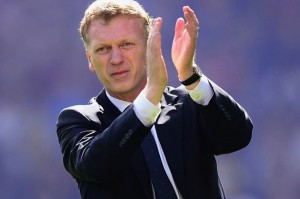 If United can use some momentum from their first half domination of Fulham, they might start to believe that the top four might merely be a by-product of a title push. Moyes will push for every victory possible so that his job can avoid being scrutinized and, although United fans are loathe to admit it, anything other than a title will put his job in question. With Liverpool hoping to scoop an easy three points this weekend against Fulham, Chelsea taking on West Brom, City taking on Sunderland, and Tottenham facing Newcastle United, United getting three points might just keep them in the hunt instead of moving them back up the ladder. However, losing three points here might see them unable to close the gap before Christmas…an important mental aspect for any team hoping to be successful.
Considering how easily United strolled to the title the last few times, it is definitely intriguing to see this much drama at this early point in the season. It also may decide the future of two big-time coaches…if Moyes cannot deliver a title, he might be in trouble…if Wenger gets a significant lead and then loses it, he might be in trouble. So much depends upon a red wheelbarrow…or, in this case, which red teams comes out on top! One thing is certain, I will be glued to the screen this weekend!