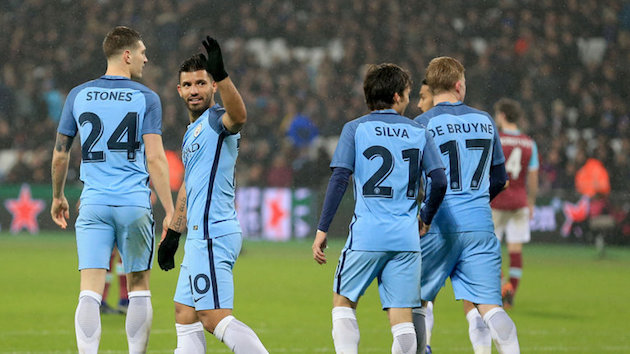 Do you even remember that Leicester won the title last season? Something that feels so far removed from our current mindset, yet a moment that seems to have turned the focus for the upper echelon of EPL teams up to 11…the squads that have long been considered "elite," have no interest in an underdog ever finding themselves on top of the pack again. The EPL table paints a much different picture here in 2017, and we haven't quite decided how it sits with us. The top six are running away, and it feels like the only drama we will see from these squads is who squeezes into the top four.
The drop from Manchester United in sixth to Everton in 7th is 9 points. Granted, 9 points with nearly half of the season remaining doesn't seem like something that a team can't overcome. However, this season doesn't have the feel of your typical EPL gauntlet. The top 6 don't just look better in terms of points in the table, this season might provide the starkest contrast in terms of talent that we've ever seen. Just take a look at matches for Manchester City and Liverpool at the weekend: City beat Burnley with 10 men (beat them easily) and Liverpool absolutely dominated a Sunderland team that notched two penalties on their way to a draw. The gulf in class seems to be greater than ever, and it's almost a question of what to expect from the top six down the stretch.
While Chelsea fans are certainly celebrating their current spot in the table, a run that they've been out would typically offer much more comfort than they currently have. Only 5 points above Liverpool and unlikely to be able to string together another quick run of 13 wins in a row, Chelsea is going to have to work hard to maintain their status at the top of the pile. Blues fans will hope that Tottenham didn't provide a blueprint for other teams to take points from the leaders, but the next few weeks will be our chance to see Chelsea either show championship pedigree or falter quite fantastically.
Liverpool still feel about as wobbly a bet as you could find. Yes, the attack is lethal and a returning Philippe Coutinho makes Mane's absence much easier to stomach, but no team in the top six has allowed as many goals or looks as defensively questionable. Perhaps a returning Matip will bring some calm to the backline, but we still don't look for them to become a clean sheet machine. The only thing that almost books Liverpool's top four hopes as a "sure thing," for us, has to be their end of season schedule. In their last nine matches, they don't play a single team in the top six. After facing Man City in March, it would take a Liverpool style stumble to miss out on the top four by May. Still…if history has taught us anything…
Tottenham, even with their recent victory at Chelsea, seem primed to hit a rough patch in the next few weeks. If they can hold serve and stay in their current spot until late March, they might change our minds. Putting your hopes on a player of Dele Alli's age is a gamble, hoping your defense stays as air-tight is a gamble, and thinking that such a low-scoring team can continue to rack up points is the biggest gamble of them all. To us, it's too many rolls of the dice joined together. Pochettino is still manager of the year at this point. Conte might have saved Chelsea and put them on course for a title, but the simple disparity in funds spent makes this a no-brainer for us. Will they finally finish above Arsenal?
Manchester City can't continue to be this frail. There's too much talent and there's been too many instances of bad luck to see this squad as a fourth place team in any capacity. De Bruyne will catch fire again, Aguero is as lethal as they come, the defense will get better, and Pep won't finish lower than he has in any league for almost a decade. Yeah, the Titanic was too big to fail, but City has the massive iceberg that is Yaya Toure on their payroll.
Arsenal might find their typical fourth place finish a bit of a struggle this year. Their defense is uncharacteristically leaky, they've gotten returns that, surely, can't continue from Walcott and Giroud, and Wenger's long coat just doesn't make us giggle the way it used to (it might not seem relevant, but it totally is…). The longer Tottenham sits above them, the longer they keep performing well without rising in the table, and the longer this team takes to decide what Sanchez means to them or what Ozil is doing during big matches, the harder it will be for the Gunners to book Champions League football next season.
Manchester United finally can see a path back to the promised land of the top four. Actually obtaining it will be quite a tall order. Their current run, just from a statistical and realistic standpoint, has to end soon. Those chanting about a possible title shot are off their rocker, but three of the teams in front of United still feel susceptible to late season issues. If Ibra continues being Ibra, Pogba settles a bit more, and they get to be known for more than just De Gea in terms of defense, the United of old might start to roll forward.
Where do you think the top six will end up? It almost feels like there are six legitimate Champions League quality squads present in this equation, but only four will find themselves in Europe's premier competition next season. If you pushed us to the edge, we'd go Chelsea, United, Liverpool, and City (in no particular order). Tell us why we're right…or wrong, if that's your game.