While most of the world let February slip by without turning too much focus towards soccer here in the states (who could really blame them), a rather momentous occasion took place in Chattanooga, Tennessee this past Saturday. Atlanta United, one of the two new MLS franchises to enter the league this season, made their on-field debut. For a team that has many quietly claiming that a playoff run is entirely probable in their inaugural season, there was quite a bit at stake.
First off, their opponents were a semi-pro team. Although Chattanooga FC has experienced serious success within their league for the last several years, it wouldn't do Atlanta much good to see this encounter end in anything other than a victory. Secondly, this was the first chance for Atlanta to showcase what type of fan-base their team could hope for in the coming season. Considering how far every single opponent for Atlanta United will be, in terms of fans having to drive, it is imperative that they show up when the team makes it back home to Atlanta. There's also the small matter of never getting another chance to make a first impression…so how would Atlanta's newest franchise start life?
The first thing that you noticed, and it persisted throughout the game, was how incredibly fast Atlanta United is as a team. It almost reminded one of how a team looks when they're playing up a man and always seem to have an extra man in transitions and when defending counters. Even when CFC had a player that seemed to be in easy possession, or looked to speed past a player, a United player was always able to take the ball back or gain position over his opponent. There were few chances for CFC to ever even score, but Atlanta was always a threat. If Atlanta can look half as fast against MLS opponents, they'll be a sight to behold.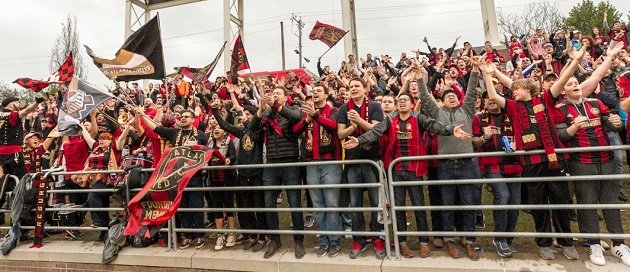 The biggest negative from the day did have to come from the fan support. Not the size, Atlanta fans traveled impressively and outnumbered CFC fans almost 3 to 1 on the day. The issue came with simple volume and organization from the Atlanta supporters' section. While the club is extremely young and the dedicated fans will certainly grow into their role as the club gets more experience under its belt, the loud and raucous Chattahooligans showcased the youth of Atlanta's fans. The CFC fans were louder, better organized, and found their voice quicker with the score standing four goals against them…the only time Atlanta overpowered the Chattahooligans was the moments following AUFC's goals.
It didn't hurt that Atlanta United showcased their new alternate kit during the second half of the game, adding a bit of flair to the event. Chattanooga continues to show that it is a hotbed for the world's sport, and it will only continue to grow. Atlanta United showed that they have every capability of making waves in their inaugural season instead of merely struggling to keep their heads above water. There was a lot happening at Finley Stadium on Saturday…and it will be a ton of fun to see how it all turns out over the next few months. With Atlanta United's first season and with CFC hoping to continue being a force within their own league…it's going to be a fun.