"If you didn't know Atletico were for real, you need to check yourself in… somewhere…." – commentator Ray Hudson, after the game
Certainly not Ray Hudson's most eloquent moment, but his larger point is correct: Atletico Madrid are for real and they are here to stay. Coming into their monumental match with Barcelona at home on Saturday, Atletico had to be foaming at the mouth to get out there and show big, bad Barca that they could hang with them. Even with the 0-0 tie, they have shown just that.
Vigorous Atletico vs. Limited Messi, Neymar 
As often happens in huge matches between two juggernauts (in this case, two teams knotted at the top of La Liga's table), there were no goals. However, this was not 90 minutes of two apprehensive teams playing tight and praying for a lucky bounce. Madrid came out with real aggression, getting a couple chances very early in the match. They would continue that aggressive nature throughout, finishing with 17 fouls to Barca's 9. However, it's not like Barcelona ever looked overwhelmed (as if that's possible). They stayed composed, even when Atletico threatened. Pique and Javier Mascherano proved too smart and strong in the back and goalkeeper Victor Valdes was there when he needed to be.
Of course the big question coming in was the fitness level of Barcelona's superstar duo Lionel Messi and Neymar as they both heal up after recent injuries. Barca manager Gerardo Martino opted to use them both as subs, which is tough choice in a match as big as this one. However, in the end, it was the right one. Only the coaching staff and the players can know if they are in good enough shape, and apparently Martino felt Alexis Sanchez and Pedro gave them a better chance early. When Iniesta suffered an injury though, Messi got his chance, coming on at halftime. The second half would see little glimpses of that Messi Magic, but nothing game-changing. Neymar would come on in the 67th minute for Sanchez, but most of the opportunities he had found him lacking in form. You can tell the attacking combination of these two is going to be electric, but for now, their health holds them back.
Who Impressed?
In monster clashes like this, certain players end up rising to the top. For Atletico, this was Arda Turan. The Turkish international was everywhere on Saturday, getting himself heavily involved in just about every one of his team's scoring chances. Plus, his beard was in as good of form as his play, so he had that going for him as well. Another Atletico player in top form was Diego Costa, who challenged Barca's defenders all game with his unparalleled strength on and off the ball. He wasn't allowed to truly break free of their back line, but he did make things difficult and a couple times, he was thisclose to finding the space he needed to be the hero.
For Barcelona, Pique was his typical tough and sharp self. He just wasn't going to be pushed around or fooled by Atletico's extremely capable attackers. Watching the match, it seemed like every time they were about to get clear for a legitimate scoring chance, there was Pique, coolly sending the ball away. Similarly, Jordi Alba looked strong and ready to create. He linked up with Messi for a good scoring opportunity in one instance, and just generally was active and mistake-free. In fact, that was both squads throughout – active yet controlled enough to avoid any costly errors that their opponents could capitalize on.
Atletico's La Liga and Champions League Chances
In the end, what did we learn from this draw? Well, it's clear now that Atletico will be legitimately challenging for La Liga's title, if you weren't sure already. Halfway through the season now, they are knotted with Barcelona at 50 points a piece at the top, with Real Madrid trailing by 3. These three teams will surely be representing La Liga in the Champions League next year, but who has the edge for the title? To me, it's actually Atletico. They have already beaten Real Madrid on the road, whereas Barca still has to go to Real in the second half. On the other hand, Atletico has to travel to Barcelona's Estadio Camp Nou on the last day of the season in a match that could very well decide who takes the title. Imagine that drama.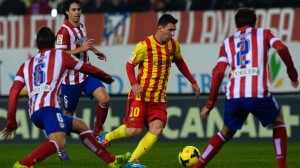 So now that we know Atletico have a real shot at dethroning the mighty Barcelona, what about their Champions League chances? For one, the knockout round draw was much kinder to them than it was for Barca. Atletico play the epically struggling AC Milan, who currently sit smack in the middle of the Serie A table. Milan has talent no doubt (they just signed Japanese international Keisuke Honda), but they just axed their manager and have zero direction at the moment. Atletico should cruise to the quarterfinals, while their La Liga rivals have to play Premier League contender and offensive powerhouse Manchester City.
Although they were unable to break the tie with Barcelona, Saturday's match was a step forward for Atletico. It was clear that little separated the two squads, as Madrid matched them step for step. Having not won La Liga's title since the 1995-96 season, Atletico's fans have to be ecstatic to see their team get out to its best first half start in team history. The combination of a La Liga title and a deep Champions League run would do wonders for them financially and solidify their place among Europe's top squads going forward. If you don't believe Atletico deserve to be there, go ahead and check yourself in somewhere.