For as long as I can remember, Atlético Madrid has always been the third wheel to a Barcelona/Real Madrid dominated Spain. Atlético had their moments here and there, including a La Liga title in 2014, and the Copa del Rey in 2013, but for the most part, Spain has been considered a two-club nation. Now, Diego Simeone and Los Rojiblancos are beginning to emerge as THE club to watch in La Liga.
After missing out on the title by just three points, and finishing behind Real and Barça last season, Atlético have started this year on fire. Through their first seven matches of the season, Atleti have yet to lose. They find themselves sitting atop the league table on goal differential. On top of their domestic dominance, the Spanish giants are also undefeated in European competition. Victories over PSV Eindhoven and Bayern Munich have placed them in prime position to advance into the knockout rounds of the Champions League, and I wouldn't be surprised if they make yet another deep run in the tournament this year after falling in the final last year.
While the undefeated record in itself is unbelievably impressive, the thing that really sticks out for me is their seemingly impenetrable defensive unit. In nine matches between La Liga and the Champions League, Atlético have allowed just two goals. Let me say that again, only two teams have managed to score against them this season, and neither of those teams scored more than once.
Seven clean sheets, including one at home against Bayern and one away at PSV, give evidence to the claim that Atleti could have the best backline in Europe right now. The veterans of Diego Godin, Filipe Luis and Juanfran (average age of just over 30) have shown no signs of age. Stefan Savic (25), who saw an extremely limited amount of playing time last season, has now become a perennial presence in the back four, starting seven of club's nine matches so far.
One of the reasons that Savic has seen such an increased role in the starting 11 this season is because of the injury problems for José Giménez. Last season, Giménez emerged as one of the best young center backs in the world, and his future was looking extremely bright. The fact that Atlético have managed to maintain such an impressive defensive record with the 21-year-old making just a single league appearance makes it even more impressive to me. While a timetable for his return is unclear, at the moment, I expect his return to strike even more fear into opposing attacks when they have to travel to the Spanish capital.
The man behind the backline has also managed to exceed expectations. Jan Oblak, 23, has quickly emerged as one of the best young keepers in the game, and some pundits have tagged him to take the title of "Best Keeper" after Manuel Neuer moves on. The Slovakian keeper has put up fine performances against Valencia, Barcelona and Bayern this season, and he's one of the main factors behind Atleti's near perfect start to the season.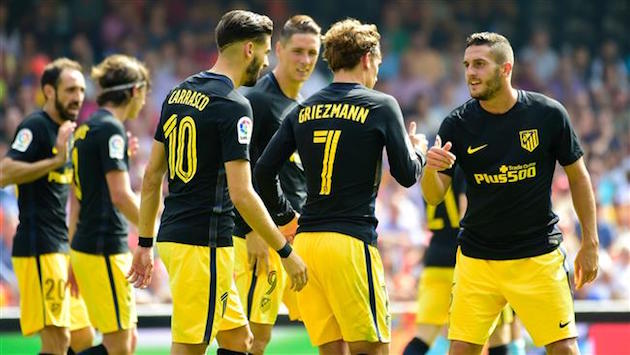 Oh yeah, and let's not forget that Atlético have one of the most exciting strikers in the world leading their line. After earning player of the tournament and top scorer honors at this summer's European Championship, Antoine Griezmann has returned to Madrid with a fire in his eyes. He's played six league matches. He's scored six league goals. Despite not scoring in the Champions League yet, the 25-year-old provided the assist for Yannick Ferreira Carrasco's game-winning goal against Bayern. His world-beating form this season has thrown Griezmann's name into the mix for the Ballon d'Or along with Cristiano Ronaldo and Lionel Messi. Not a bad group of players to be included with.
This mix of a brick wall defensive unit, sure-handed keeper, and talismanic striker have elevated Atlético Madrid from the shadows of Real and Barça. The Catalans have sputtered out of the gates this season, Real now find themselves in a sort of injury crisis, and Atleti have taken full advantage. Come May, it would come as no surprise to anyone if Diego Simeone is leading his squad in title celebrations.