Although my personal preference of football leads me away from any game where the referee is constantly surrounded by players or where players tend to accentuate every small clip as if they had been fired from a cannon, the enormity of Barcelona and Real Madrid demands my full attention. With Madrid needing to take a win from their visit to Camp Nou and Barcelona looking to extend their lead over their most-hated rival, the fixture seems to have more importance at this early part of the season than any other fixture in Europe at this point. Who would prevail?
The biggest story of this fixture was, for the first time in a long time, NOT between CR7 and Messi. This game was going to see which new signing could outperform the other…Bale vs Neymar. Although Neymar cost almost half of Bale's total transfer fee, the Brazilian has seen more playing time with his squad and was expected to be a little bit sharper than the Welsh wizard once the opening kick-off occurred. With that in mind, Neymar still showed that Barcelona have made the better piece of business (for now). Neymar was very active and looks to be a fantastic foil to Messi. Where Messi flows within the system of the tiki-taka and can beat players with his quick dribbling, Neymar's flair somehow mixes with the Catalans but manages to stand in stark contrast when the Brazilian is given the space to exploit. Considering that Neymar also has a greater potential than the slightly older Bale, Barcelona will walk away feeling that they have gained more than merely three points.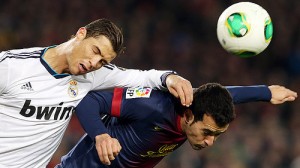 We also found that referees are beginning to tire of anyone asking for fouls in dangerous positions in this fixture. Although Mascherano's tackle of Ronaldo may have warranted a penalty, the past has shown that this fixture is filled to the brim with play-acting and players hitting the deck under the slightest pressure. After years of this seeming to decide the game in a very negative fashion, you cannot blame the referees for waiting until there was no doubt before making a call. The officials will also have been privy to Ronaldo's "act" against Juventus earlier in the week and they will have taken that into consideration before taking the pitch. Another useful tidbit: if Sergio Busquets is able to call you "whiners" after the game…then something has gone terribly wrong!
Although every fan of the European leagues and every player/manager/owner will attempt to persuade you that no single game can decide a title in the major competitions, the points lost and won during the Barca/Madrid fixtures always seems to have a huge importance at the end of the season. If the second fixture involving these two teams in the spring sees Barcelona already far enough away from Madrid that no result will truly affect the league, then this 2-1 loss for Madrid may be the point where the season was lost. If Los Blancos are unable to bring home the Champions League or La Liga this season, expect the firings in the summer and the insane purchases to return Madrid to glory to be the stuff of nightmares…