If you follow German football in any capacity, you have heard of Bayern Munich. They are the baseball Yankees of football-obsessed Germany. They are obsessed with winning championships, buying any competitors' best players in order to extend their reign. But the question has been asked: Are Bayern Munich bad for the Bundesliga?
Now, we can't forget about the good things that Bayern gives the Bundesliga. They are a continued staple in the knockout rounds of the Champions League, gaining critical points to keep European competition places for the Bundesliga. By buying all the international stars, they get a large fanbase around the globe, and by association, the Bundesliga gets additional fans as well. Also, fans of other Bundesliga teams know not to get their hopes up too much. Germany's World Cup-winning team was basically Bayern Munich and some other random Germans. Now we have to get to some of the obvious negatives of having a league juggernaut.
I mentioned that opposing fans know not to get their hopes up too much, but there are always those fans with a twinkle in their eye that think that "this is the year." Every once in awhile, some teams even beat Bayern in the Bundesliga. Borussia Dortmund made this mistake just a few years ago. I say mistake because since that time, Bayern has plundered their rivals for Mario Gotze and Robert Lewandowski, while making heavy attempts to lure Marco Reus. When you take away 2 of the 3 best players on a team and add them to your own, you likely will leapfrog and leave the other team in the dust. In the previous two seasons since Dortmund won the title and Bayern took Gotze, Bayern lost a combined 3 games in 2 seasons. I like to imagine Bayern executives saying "that will teach them to have good players and be successful!"
As a player, the appeal of Bayern Munich must be pretty large. The club has one of the nicest stadiums and training grounds in the world. Gotze is a great example of cashing in on a large payday offered by Bayern that other clubs in the Bundesliga could never dream to afford. Throw that in with the chance to dominate a league in preparation for elite European competitions, and you have a pretty attractive formula for success. If it were me, the choice seems pretty clear. Playing in a nicer stadium, making more money, with less stress, and still getting to compete in European competition? Sign me up!
Now, we have to get down to the nitty gritty of whether Bayern Munich, in their current dominating form, is good for the health of the Bundesliga and the future of the league. Or would the league be better off with a Premier League situation, with 6 or 7 teams who battle for the title each season? What about a La Liga, where it's a 2-horse race with the occasional darkhorse sliding into the top spot? Or should we expect a form of parity that we know will never happen?
When we get down to the dollars and cents of the whole deal, there is not a scenario that consists of Bayern's current status being good for the Bundesliga. If I had to compare the situation between of Bayern and their domestic league, I'd have to go with Cuba during the Fidel Castro regime. They rule the Bundesliga with an iron fist, crushing any who dare oppose them. It will take a revolution by a strong team to even challenge the balance of power.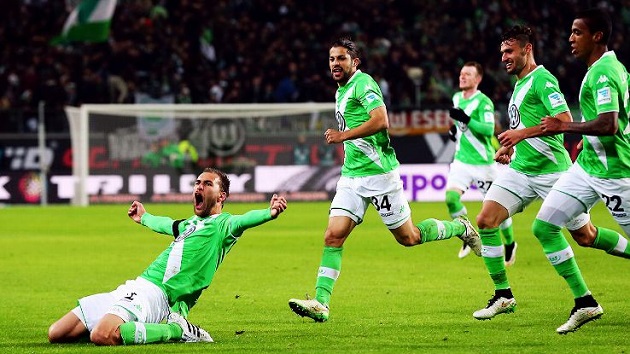 There is some good news on that front. There are multiple teams who are making the moves to take on the giant. The first is Borussia Dortmund. They have managed to re-sign Marco Reus to a contract that removed his 25 million euro release clause. They have also held onto Mats Hummels, a critical piece of their defense. Bayer Leverkusen is the next potential candidate. Not that they have made any special moves, but the fact that they advanced to the knockout rounds in the Champions League is a threat to Bayern Munich. The last, and possibly most important, is VfL Wolfsburg. The club picked up some former Chelsea players in Kevin De Bruyne and Andre Schurrle. These two players are on their international squads for a reason, and they have shown it in the Bundesliga. Combine that with the emergence of Bas Dost, and you have yourself a bonafide competitor.
So there you have it Bundesliga fans, there is a light at the end of the tunnel. A trio of less heralded clubs just might bring balance to the force. Maybe this is just a phase, or a false hope, but there is certainly something cooking in Germany.