Lately, there has been plenty of concern over Bayern Munich's future. How could they not make the Champions League final? This is the Age of the Counterattack, Pep's tiki-taka style just won't work anymore. Mueller's leaving! Frankly, most of this is just the knee-jerk reaction-ism that comes with being a European football powerhouse. Bayern, an insanely talented side, ran into another insanely talented team in Real Madrid. They were outplayed and outcoached, simple as that. Most club sides would be just fine with a "dip in form" that still results in a league title and possibly a league cup win. But not Bayern. Mia san mia, right?
As they move into next season, the pressure will be turned up a bit on manager Guardiola. His possession-based philosophy – which was widely recognized as the key to Bayern's domination – is now under the microscope. However, barring a Treble repeat from Bayern this season, this should have been presumed. When your club's expectations are "Treble or Bust", anything less is failure, even a Bundesliga title and Champions League semifinal appearance. Pep obviously knew this coming into the job, but since we know his Munich side is not invincible anymore, it will be interesting to see how his tactics change or not, and what success comes from it next season.
Bayern will be chasing that success in a new home kit, of course. This jersey steps away from the all-red occasion of last season's home strip. This time, adidas has decked them out in vertical lines of red and blue. Per Bayern's sponsorship deal with Deutsche Telekom through 2017, T-Mobile's parent company, their logo remains on the front in white. The big difference on this year's jersey is the 2013 FIFA Club World Cup Champions badge between the adidas logo and Bayern's crest. As if the rest of the football world needed any additional confirmation that Bayern are a juggernaut.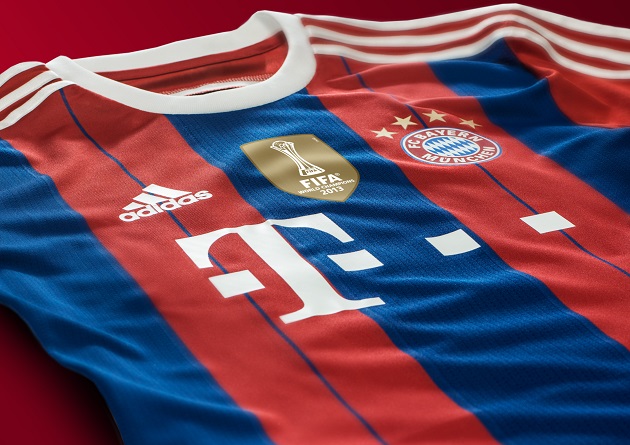 Thin blue lines strike through adidas' logo and crest, lending a wonderful symmetry. The trademark three white stripes remain on the shoulders so that we can't mistake this for anything other than an adidas jersey. Finally, red shorts and red, white, and blue socks round out the home kit's look. In the end, the design is nothing revolutionary, but it is an interesting enough jersey for next season that will keep Bayern looking sharp as they set their gaze on a return to Treble glory.