The spotlight rarely shifts from the players that have been labeled as superstars. The pundits only discuss certain players and fans seem to rarely wear some of their hardest working player's numbers. However, these are the players that deserve more praise than they are receiving and more recognition than they may ever receive. After our EPL's Most Overrated list, we wade in again to give some extra attention to the players we have decided are underrated up to this point of the EPL season.
5. David De Gea – Manchester United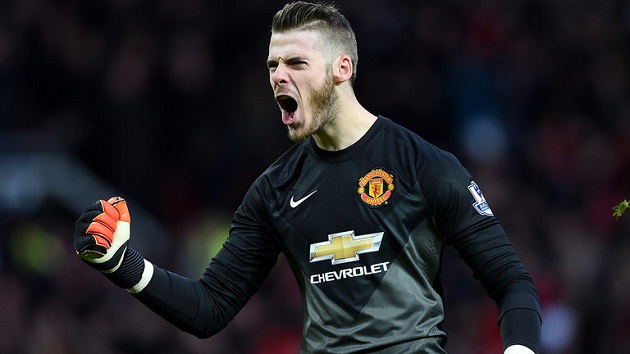 The #4 and #5 players on this list may have taken the hardest route to get in, with almost nothing being as difficult as being a member of the biggest clubs in England and still not getting the focus and attention you deserve. De Gea barely makes the list because he is quickly being recognized as the future of goalkeeping, Spain, and United (in terms of the man between the sticks), but his exploits this season have been extraordinary. Without the man with (arguably) the worst facial hair on the planet (I mean, seriously…high schoolers have better facial hair), United would not currently be experiencing an incredible resurgence. He is not the entire reason, but he is a huge piece of the Red Devil puzzle. Wasn't he being described as lazy just a few months ago?
4. Christian Eriksen – Tottenham
No player has played a bigger role in Tottenham's climb back towards the top than former Ajax-midfielder Eriksen. Would you like late goals to claim three points? Eriksen has done that. Being the player that could be credited for a plethora of "hockey-style" assists (the pass BEFORE the assist)? Eriksen has them coming out of his ears. Soldado might not be able to find the back of the net with a map, compass, GPS system, and a team of cartographers, but Eriksen has Tottenham showing definite signs of positive rebuilding. While Tottenham's Chadli has become one of my new favorite players (a tricky winger built with that size and that height? Seriously?), Eriksen is making himself Tottenham's most important player.
3. Cisse/Perez/Pardew – Newcastle United
Sure, without the turnaround, they would not be anywhere near this list. Heck, Perez only has 4 goals in 15 appearances…but, with his size and playing style, I do not think many people expected him to have ONE! Cisse has not been playing at this level since Demba Ba left, and Newcastle are benefiting directly from their striker rediscovering his form. Lastly, no manager's seat (even in Liverpool) has been as hot as the one that Alan Pardew was sitting in. No matter how big a role Pardew played in the about-face of Newcastle, to remain calm under that pressure (and being the captain of a ship that is currently flying very high) lands him on the list with his players.
2. Mile Jedinak – Crystal Palace
Jordon may be wiping a tear away as an Australian player makes the list, but Jedinak deserves to be on here. A key cog in the Crystal Palace make-up, Jedinak has become a consistent goal-scoring threat and will be one of the biggest factors if Palace avoids relegation this season. He consistently registers one of the most (if not THE most) tackles and interceptions every week, which will lead to him having a shot at repeating his feat from last season of having the most tackles, interceptions, and minutes played in the entirety of the EPL. The only thing that is truly surprising to anyone that has followed Jedinak for any amount of time? The fact that he still plays for Crystal Palace…despite his age, he could provide a midfield backbone almost anywhere.
1. West Ham's Attack
Southampton's form is surprising and Newcastle's spin-on-a-dime has been impressive, but nothing could have prepared us for a West Ham team that seems unstoppable in front of goal. New arrival Sakho has been in ridiculous form and snags the majority of the goals for the Hammers, but the players that surround him have been chipping in with constant contributions. While Valencia's World Cup form had us slightly prepared for his talents, the fact that Andy Carroll and Stewart Downing have also looked strong in front of goal is a testament to how hot this squad is right now. While Alex Song deserves recognition for giving the attackers more freedom to bomb forward, the attack on show has been lethal. Who could have predicted the way this season turned out? West Ham could stay in the top four all season, and I think people would underrate them all the way through to the end.
Honorable Mention
Manchester City/Chelsea's Left/Right Backs
Much in the same way that the overrated list did not follow conventional list "rules," this list suffers from the same fate. Manchester City and Chelsea's recent (and current) success shines a limelight on their goalscorers, their central defensive pairing, their star midfielders, and their managers. However, both of these clubs house some of the best outside defenders in the game. Ivanovich provides an attacking outlet, power in the air, and strength in defense…Azpilicueta is growing into a player more than capable of erasing the gaping hole left by Ashley Cole…and Kolarov and Zabaleta never stop running while providing impressive attacking options (and, even Clichy is starting to put in some top-tier performances!). If either of these clubs is dancing around their pitch when May comes, the play of their outside defenders will be one of the biggest factors.
Southampton
Sell your "best" players? Snag a new manager? Use a modest amount of money that you brought in to replace needs on the pitch? Southampton has done all of these things and still accomplished more than they could have ever hoped for last/this season. No matter how long they are able to stay in the upper echelon of the table, their performance up to this point has been outstanding.
What are your thoughts on our underrated list? Is there anybody that you would have added? The overrated list was difficult, but there have been tons of players that could have made this list…it was tough to finally choose the top-five.