Earlier this week, FIFA released its three finalists for the 2015 Ballon d'Or award. The Ballon d'Or is awarded to the player that is deemed by players, coaches, and journalists to have been the best player during the latest calendar year. For the last seven years, Lionel Messi and Cristiano Ronaldo have dominated possession of the trophy with the Barcelona forward winning four in a row between 2009-2012, and the Portuguese star winning three times, including both of the last two years.
This year, both of these superstars are once again in the running, but for the first time in his career, Messi's Barcelona teammate Neymar has finally joined the list of finalists. Is the Brazilian trickster a serious contender, or is he there simply to make up the numbers? We won't find out who will take home the award until January, but why not make some early predictions?
Lionel Messi
2015 was one of Lionel Messi's most successful years to date. The 28-year-old forward led Barcelona to a historic European treble as they dominated La Liga, claimed a fifth Champions League title, while also winning record 27th Copa del Rey. Messi played a pivotal role in all of these triumphs scoring a wonder goal against Athletic Bilbao in the Copa del Rey final, and also helping to set up Luis Suárez's game winning goal against Juventus in the Champions League final.
This season, however, the Argentine superstar has been somewhat hindered by an early leg injury, missing nearly two months of action. Despite this lengthy layoff, Messi has still managed to score 13 times for club and country, while also assisting another six goals. Messi also finished the second half of last season with 35, yes 35, goals (an average of a goal a game).
Altogether, 2015 saw the four-time player of the year score 48 times and win three major trophies. While the statistical side of Messi's game is impressive in itself, I think that it's also important to look at the influence he has whenever he steps foot on the pitch. His ability and creativity on the pitch forces opposing defenders to consistently devote their attention to him, even when the ball's not at his feet. This gives players like Suárez and Neymar more space to operate, which in turn allows them to put up the ridiculous numbers they've turned in for the last year and a half. I think this year the Ballon d'Or is Messi's award to lose.
Cristiano Ronaldo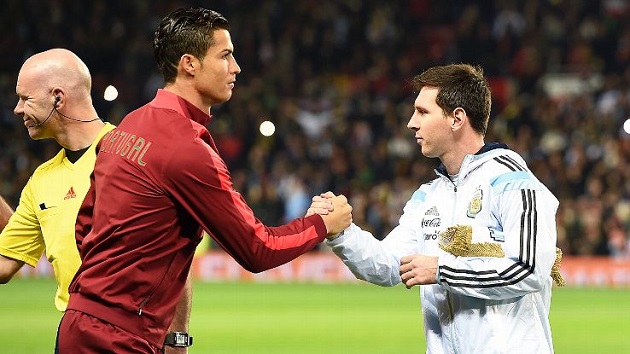 Through 50 games this year, Cristiano Ronaldo has put in 45 goals, including 17 in the 2015/16 season, so far. While the former Manchester United winger had a very impressive year in terms of pure goal scoring ability, the Real Madrid man saw 2015 come and go without a single piece of silverware. Los Blancos were knocked out of the Champions League in the semifinals, eliminated from the Copa del Rey in the Round of 16, and to top it off, they finished two points behind Messi's Barcelona in La Liga. This lack of club success may overshadow the individual performances that Ronaldo has put up in 2015.
Unlike Messi, Ronaldo has had to deal with a change in leadership this year as Real Madrid sacked Carlo Ancelotti (a move that was apparently not supported by Ronaldo) and replaced him with nomadic manager Rafa Benitez. Under Ancelotti's system, it appeared as if Madrid played a more attacking style of play that allowed Ronaldo to have more influence on the match. Now under Benitez, Ronaldo's team is now set up with a defensive mentality that seems to limit players like Ronaldo and Gareth Bale.
We may finally be seeing an end to Ronaldo's inclusion in the shortlist for this award as he now finds himself on the wrong side of 30. Even though he's still scoring goals like a mad man, it's worth noting that it's not at the same pace as years past. The Portuguese captain still appears to have the lightning pace and mesmerizing dribbling ability that made him a superstar, but how much longer can he maintain this level of play? As much as I love CR7, I think that this year will mark the start of a long run of Messi Ballon d'Ors.
Neymar
The third player to join the Messi and Ronaldo party is 23-year-old Neymar. Since his move to Barcelona in 2013, Neymar has thrived. The jump to a tougher division from the Brazilian league has done little to stop the dribbler from flashing his moves and making defenders look like reserve players. At Barcelona, the Brazilian completes a dominant attacking trident with Messi and Suárez that has been arguably the most exciting attack to watch in all of world soccer.
During the two months that Messi was forced to miss with injury, Neymar still managed to score 11 goals through 11 matches. The most impressive of these strikes came was his second goal in a 3-0 demolition of Villareal. This flicked strike highlights the best parts of Neymar's game. Few players even have the skill to pull off something like that in training, but what makes Neymar special is that he had the audacity and fearlessness to try it in a match (also see his controversial rainbow in the Copa del Rey).
Over the year, Neymar has scored 45 goals and, alongside Messi, he has claimed a league title, a domestic cup and a European crown. While his résumé for 2015 is impressive, he isn't quite at the level of Ronaldo and Messi. At just 23, it wouldn't be surprising at all if Neymar is in the running for this award for years and years to come, but it's not his time yet.