Park the busses?
Not these sides.
"We know what is awaiting us at Bernabeu," said Borussia Dortmund winger Marco Reus in a press conference in Madrid, the day before his side is tasked with taking down one of the giants of European football. "We will try to be aggressive and to show our BVB football."
"BVB football," as implemented under charismatic coach Jurgen Klopp, has never resembled the overpopulating of the defensive area often described as "parking the bus." While such defensive-oriented strategy can be useful to level the playing field for an outclassed side, Klopp looks at it as a style of play fans of his club simply don't wish to see.
Besides, Klopp does not really believe his side ever suffers from a true gap in class when it comes to a 90-minute fight on the turf, as evidenced in his confident statements Tuesday.
"It is no magic trick that we are here again," said Klopp regarding perception his side might be considered somewhat fortunate to have reached this stage, considering injury problems throughout the Dortmund roster and wavering form in the Bundesliga.
Despite Dortmund having climbed into second place in the Bundesliga table since spending winter break on the fourth rung, Klopp's side finds itself clinging to a one-point lead over rival club Schalke. The patchwork defense nearly cost Dortmund their advantage when relegation-threatened VfB Stuttgart bolted to a 2:0 lead not quite 20 minutes into their Saturday afternoon contest. Marco Reus came to the rescue with a hat trick, ultimately grabbing all three points for the BVB.
Hence, you can't really blame onlookers for seeing such problems for Dortmund domestically and wonder just what Klopp has up his sleeve that allows his team to continue to surprise in Europe.
Certainly, there remains plenty of quality on the squad, and Klopp has established he knows how to tactically make his club tick, but then you have to consider the intangibles of coaching, which revolve around motivation. Hearing Klopp talk about the match, you'd think it's Real Madrid which needs to find answers. Even with Dortmund's top offensive threat, Robert Lewandowski, serving a yellow-card suspension, the BVB boss warns that Real had better bring their best game Wednesday.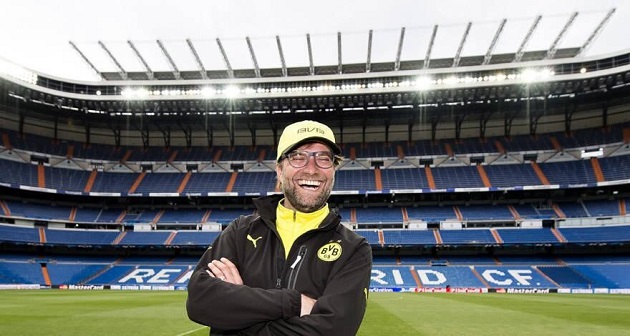 "Real should not give us any space. If they do, we can hurt them," is how Klopp sees his side's chances, even with the home side maybe seeking a bit of payback from last year's semi-final meeting with Dortmund. Klopp's aggressive side sprinted to a 4:1 first-leg advantage and hardly looked back on their way to the final.
And there is, as there must always be, just a touch of what makes Klopp such an endearing figure to many who hope he will eventually take over the job of leading the German national team.
"We need to have cojones!"
It's a big ask of cojones to counterbalance the absence of top players such as Neven Subotic, Ilkay Gündogan, Sven Bender, Jakub Blaszczykowski, and Marcel Schmelzer, but it's another matter entirely to ask them to do so in the face of the world's best player, Christiano Ronaldo, and a supporting cast that features Gareth Bale, Karim Benzema, Angel di Maria, and Iker Casillas.
But, like Klopp, the Dortmund players simply see an opponent and a task, with little regard for situation.
"Real Madrid have good individual players," said Reus "but they also have weaknesses. Our job is to exploit those weaknesses.
One weakness Real will not likely have is having underestimated their opposition. Whether it played into last year's result or no, you can bet Madrid will be ready.
Then again, so is Dortmund.
As usual.