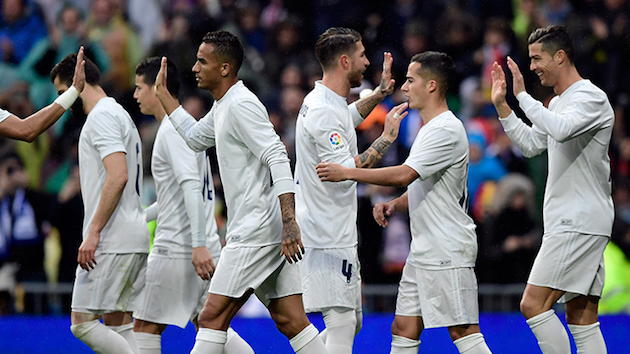 April 6th, 2016. That's the last time that Real Madrid lost a competitive match. That's 236 days ago. I don't care if you're a Madrid fan, a Barça fan, or if you don't even like the sport; that type of unbeaten streak is unbelievable.
This season, Los Blancos have started the season on a 20-match unbeaten run through all competitions. In La Liga, Zinedine Zidane's men have won 10 out of a possible 13 matches and currently hold a six-point lead on Barcelona for the top spot in the table. In the Champions League, they've already secured their spot in the knockout rounds despite winning just three of five matches.
When you look at the players that Zidane and Real have at their disposal, you would almost have to expect them to win every single time they step on the pitch. While they don't have quite the same star power of the early Galacticos with the likes of Zidane, David Beckham, the original Ronaldo, Luis Figo and Roberto Carlos; you could argue that they are a far more balanced squad than ever before.
At nearly every position, Real have two or three world class players that have to compete for the starting spot. In defense, the evergreen duo of Pepe and Sergio Ramos must now try their best to keep one of the brightest young defenders in the world off the pitch in Raphaël Varane. Flanking these central defenders you have arguably the best left-back in the game in Marcelo. Backing him up is Fabio Coentrao who could be starting for the Portuguese National Team.
Let's not forget about the almost-Manchester United man Keylor Navas between the pipes who has performed admirably since almost being sold last summer for David De Gea. The Costa Rican keeper and his impenetrable wall of defenders have led Real to the joint-second best defensive record in the league after allowing just 11 goals through 13 matches.
As impressive as their defense has been, you can't talk about Madrid without talking about their devastating attacking trio. The BBC (Karim Benzema, Gareth Bale and Cristiano Ronaldo) have combined for 25 goals through all competitions. Providing some reinforcements to this already ridiculously talented trio is former Juventus striker Álvaro Morata who currently sits as the club's second leading goal scorer with eight tallies of his own.
No team since Manchester City back on April 26th has been able to keep a clean sheet against Los Blancos. This season alone, only twice have Madrid been held to just a single goal. With all of that being said, it's no surprise that Real have the best scoring record in the league with 36 goals (2.7 goals/game).
Just to spotlight one player for a second, Cristiano Ronaldo, in my opinion, is the hands down choice for the Ballon d'Or this year. Over the summer, he led Portugal to an unlikely European Championship, and during the current season, he has been almost unstoppable. He's already scored two hat-tricks, including one against bitter rivals Atlético Madrid, and in his last match against Sporting Gijon he scored both of Madrid's goals in a 2-1 victory.
Even though he's the ripe old age of 31 now, CR7 has adjusted his game to maximize his impact on the pitch. He knows that he doesn't have the same pace and electricity that he had a couple of years ago, so he's moved into more of a central forward role. In this no. 9 spot, Ronaldo has become an absolutely lethal poacher from close-range. This ability to adapt and change his game has continued to make CR7 a key contributor for Real.
This weekend, Madrid's unbeaten run faces potentially its biggest test in El Clasico. Zidane and his men will travel to the Nou Camp to take on a relatively struggling Barcelona squad. Last year, they managed to grab a 2-1 result in Catalonia, and with the talent and momentum they have going into this match, I wouldn't be surprised if they replicated this result one more time.