Done Deals
Dani Alves
In an unexpected move, a very vocal Dani Alves has signed a two-year contract extension with Barcelona. This extension comes after Alves vented to the media about the lack of respect that he felt at the Catalan club, and even went as far to say that his entire body was pretty much out the door before Saturday's Champions League Final. Before signing his new contract, the defender had been linked to European powers such as AC Milan, PSG and Manchester United and his exit from the transfer market means that the list of proven wingbacks available is very very slim.
Danny Ings
One of the hottest new strikers in the Premier League last season had to be Burnley's Danny Ings. Despite being on an eventually relegated club, Ings still managed to score 11 goals during the campaign. Burnley's relegation meant that Ings would have to move away from Turf Moor if he wanted to continue playing in the top flight of English competition and Liverpool were happy to provide him with a new home at Anfield. The historic club announced the signing on Monday, and Ings will join a long list of forwards on the squad including recent disappointing signings of Mario Balotelli, Fabio Borini, and Rickie Lambert.
Sami Khedira
Juventus wasted no time in improving their side after falling just short of claiming the European treble as they announced the signing of German midfielder Sami Khedira from Real Madrid. Khedira made just 11 La Liga appearances last season due to injuries, but at 28 years old the defensive-minded player still has several years of top quality experience to offer his new employers. With the futures of fellow center midfielders Paul Pogba, Andrea Pirlo and Arturo Vidal unclear, Khedira will have to wait and see who he will line up with next season, but Juve fans will be dreaming of a trio of Khedira, Pogba and Vidal leading them back to the top next campaign.
Getting Traction
Petr Cech
It is starting to look more and more like next season will see Chelsea's Petr Cech plying his trade away from Stamford Bridge. The emergence of Thibault Courtois has forced the veteran goalkeeper to assume a number two role on the team, and a number of squads within the Premier League have shown interest in making Cech their starter for the 2015-16 season. The club that has started to come up more in the rumor mill has been fellow London club Arsenal. The Gunners are coming off of another FA Cup triumph but some fans have doubts about whether or not current keepers David Ospina and Wojciech Szczesny provide them with enough talent to push for a title next season. An experienced keeper like Cech would provide Arsene Wenger's side with one of the best keepers in the league despite his age, but it will be a challenge to convince Jose Mourinho to sell such a player to a fellow title challenger.
Robin Van Persie
After a disappointing season at Old Trafford, Robin Van Persie's future with Manchester United is anything but guaranteed. Injury problems forced the Dutch striker to spend most of the season watching from the stands, and there are multiple reports linking him with moves to the Serie A. Photos published within the last week showed the United striker hanging out in Rome, sparking rumors of a move to Lazio, but Van Persie claimed he was in the Italian capital purely for vacation reasons. A lack of depth at the forward position for United could see Van Persie suit up for the Red Devils again next season, but the allure of a new challenge and a hefty transfer fee could pull him away from Northern England.
Crazy Rumor
Raheem Sterling to Manchester United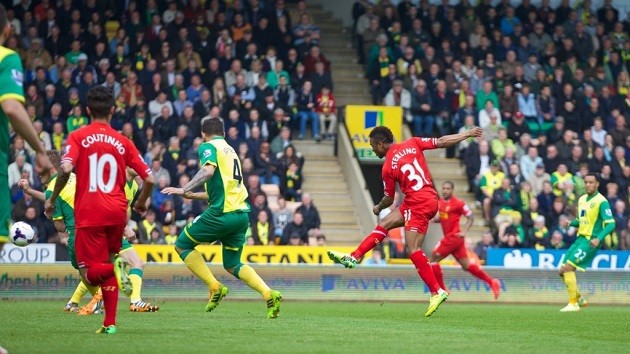 The thought that Brendan Rodgers and the rest of the Liverpool front office would ever sanction selling their hottest talent to a rival like Manchester United is crazy. Add in the rivalry to the comments from Sterling's agent bashing the Merseyside club and their alumni, selling the 20-year-old to another Premier League club, let alone Manchester United, would be seen as a massive slap in the face to fans by not only the player but also the club. While I don't think that Sterling's future will be at Liverpool, I believe any move that he makes will be abroad and far far away from Anfield.
Chicharito to MLS
Several media outlets have began reporting that Javier "Chicharito" Hernandez could begin listening to offers from Major League Soccer sides as he looks for an exit from Manchester United. As much as I would like to go watch Chicharito play in person stateside, a move to the MLS makes no sense in terms of career development. The Mexican striker is a proven goal scorer and even in his limited game time at Real Madrid last season he was able to score eight times, including the winner against Atlético Madrid in the Champions League semifinals. I think that it's much more likely that the 27-year-old stays in the Premier League and moves to a mid-table team like West Ham United or Southampton.