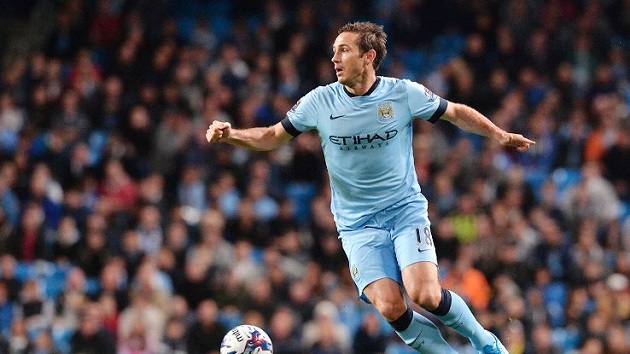 This isn't fun. Not that I thought it would be, but now it's really not fun. When Frank Lampard, Chelsea's all-time leading goal scorer, left London for New York City, it was disappointing but the move made some sense. No longer a fixture in the Starting XI, Super Frank had to make way for younger Chelsea midfielders to make their stamp at Stamford Bridge. Becoming the face of a brand new MLS franchise was the perfect way for Lampard to enter the twilight of his career.
Then it was announced he would go on loan to Manchester City until January of next year (the MLS season starts in March). This also made sense, considering NYCFC is owned by Man City, but every Chelsea supporter knew it would be weird. And it was. When he made his debut versus Arsenal, the sight of Lampard in that sky blue City jersey was certainly strange – although if he had been loaned to a red team it would've been truly surreal.
However, it was his next appearance that would be a Kafkaesque nightmare for Chelsea fans. In the 77th minute, he was subbed on for Kolarov against his former club. Just seven minutes later, he would make a run into the box where the ball was played right onto his foot. As he was falling he slotted it past Chelsea's young keeper Thibaut Courtois. He rose to his feet quickly, only to begin a slow walk toward the sideline with his head down, like a kid who thought he might've just done something wrong. For a goal so early in the season, it was of massive significance. As the Men in Blazers would say, The Narrative was almost overwhelming. These two teams are widely considered the league's two most talented and Lampard had just brought City level late on in a home match. Yet it was the classy No Celebration you would expect from a consummate professional who spent 13 years of his career in the opposing team's jersey.
When he had entered the match, I kept thinking the same thing: "Nope. No way." How was I supposed to reconcile my love for Chelsea and my love for Lampard simultaneously? The cognitive dissonance was through the roof. When he scored, all I could think was "Of course". It was only after he declined to celebrate that I stopped feeling conflicted. I started to realize I could be upset that my club didn't get the win and, at the same time, be pleased he was finding success at his new home. I mean, Frank was clearly in a weird head space after that goal, but he handled it well. Also, who else would I have wanted to score if City were to knot the match? If you looked at it a certain way, Chelsea fans got the best possible outcome if that outcome had to be a draw.
Then came yesterday's two-goal effort in a mostly meaningless Capital One Cup thrashing of Sheffield Wednesday and I was back to square one. Understandably, I was not over Lampard scoring for other teams. Not that City is Chelsea's main rival, but seeing him play so well for a different top Premier League side is just going to take some getting used to. The most positive thing I can think of is that this isn't permanent. Come March, Lampard will be in a different country with a different league. While that's not really a solution for similarly conflicted Chelsea supporters, it's all we have right now. So do your thing, Frank. We'll just be over here, half-cheering.