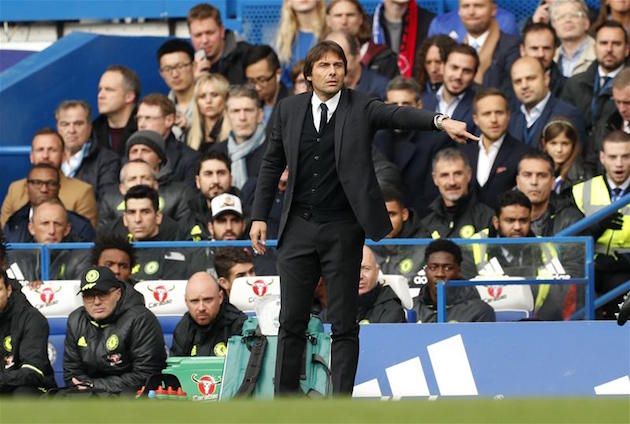 Following Chelsea's 4-0 demolition of their former manager's Manchester United on Sunday, Nemanja Matic claimed their loss to Arsenal in late September was "a wakeup call for us." That resounding 3-0 thumping delivered by the Gunners was an embarrassment, but it paved the way for the Blues' current three-match winning streak, due to a crucial lineup change by manager Antonio Conte.
Only nine Premier League matches into his Chelsea career, Conte has proven that he is willing to switch up his formation and starting XI to see what works. This is in stark contrast to Jose Mourinho's occasional stubbornness as Chelsea boss, especially last season when Mourinho (along with the rest of the squad) appeared to be on autopilot once things turned sour. This season, after losing to Liverpool and Arsenal back-to-back, Conte shifted gears into a revelatory 3-4-3 formation that has instantly clicked. The combined score of Chelsea's last three matches is 9-0.
So, what in the world has caused such a turnaround? In that Arsenal match, Chelsea played a 4-1-4-1, stranding Diego Costa at the top and isolating N'Golo Kante in the midfield. This, to put it mildly, didn't exactly pan out. Arsenal trampled over the back four and Costa couldn't get consistently involved.
Against lowly Hull the next week, Conte decided to shake up his starting XI. He installed a 3-4-3 with Cesar Azpilicueta, David Luiz, and Gary Cahill at the back, Matic and Kante patrolling central midfield, and, perhaps most significantly, Marcos Alonso on the left wing and Victor Moses on the right wing. With the Matic-Kante tandem providing cover for the three defenders behind them and distributing the ball to the front three attackers, Alonso and Moses have ruled the right and left flanks as wingbacks. The emergence of these two has seemingly come from nowhere, as Conte brought Moses in from the Chelsea loan wilderness and Alonso from Fiorentina. They don't neglect their defensive duties and their work rate has been on par with the Energizer bunny.
Up front, Costa has centered Eden Hazard on his left and Willian (against Hull) or Pedro (against Leicester and United) on his right. This has allowed for combination play between the three attackers, as opposed to relying on Costa to create by himself, of which he had actually done a pretty good job before the switch, scoring five times in Chelsea' first five matches. Since the 3-4-3 change, he's still tallied twice in three games.
Most heartening for Chelsea supporters has to be Hazard's resurgence. After an unthinkably dismal last season, he looks to have the vitality of 2014-15 Eden Hazard, when he was Premier League Player of the Season. Just watch his movement leading up to his goal against Manchester United, where he distributed to Kante, streamed by his defender, received an incisive pass from Matic, and then juked back to his right before slotting it home past David De Gea. Hazard's vibrancy is probably due to Conte decreasing his defensive responsibilities with Alonso running the left wing behind him. Now that Hazard isn't trapped to one side of the field, he can roam free and apply his creative will. Similarly, Willian or Pedro can fold in to attack from the other side, causing nightmares for opposing defenses.
Meanwhile, there have been some big names sacrificed in service of Chelsea's winning streak. Cesc Fabregas hasn't featured since the Arsenal loss, perhaps partly due to injury, and Oscar hasn't started since the Liverpool loss. Both of these players can be liabilities on defense, which means it's unclear where there might be room for them in the midfield. Willian, who was probably Chelsea's best player last season, has been benched in favor of Pedro in the last two matches. Branislav Ivanovic and John Terry's best days seem to be firmly in their rearview. Barring injury, it's difficult to see any of these players (except Willian) fitting in Conte's new system.
Of course, Conte has experience with running a back three, so this isn't entirely new to him. With Juventus and Italy, he had the luxury of an Italian wall comprising Giorgio Chiellini, Andrea Barzagli, and Leonardo Bonucci. While Azpilicueta, Luiz, and Cahill aren't even close to that level, they get invaluable assistance from Matic and Kante in front of them, as well as their wingbacks coming back to disrupt attacks. Still, one has to worry about Chelsea's back three holding up against quick counters that might leave Conte's team vulnerable.
What remains to be seen is if his 3-4-3 is the key to Chelsea's season or if it's just a matter of time before the league starts to unlock it. Will it work nearly as well when deployed opposite Man City, Liverpool, or Tottenham? One good sign is that Chelsea's goals have come from various sources, not just Costa and Hazard. Seven different players have scored their last nine goals.
Still, we will wait to see how these changes hold up over time and if Conte sticks with them after a setback. It's a long and grinding campaign, where sometimes a revelation just turns out to be a mirage.