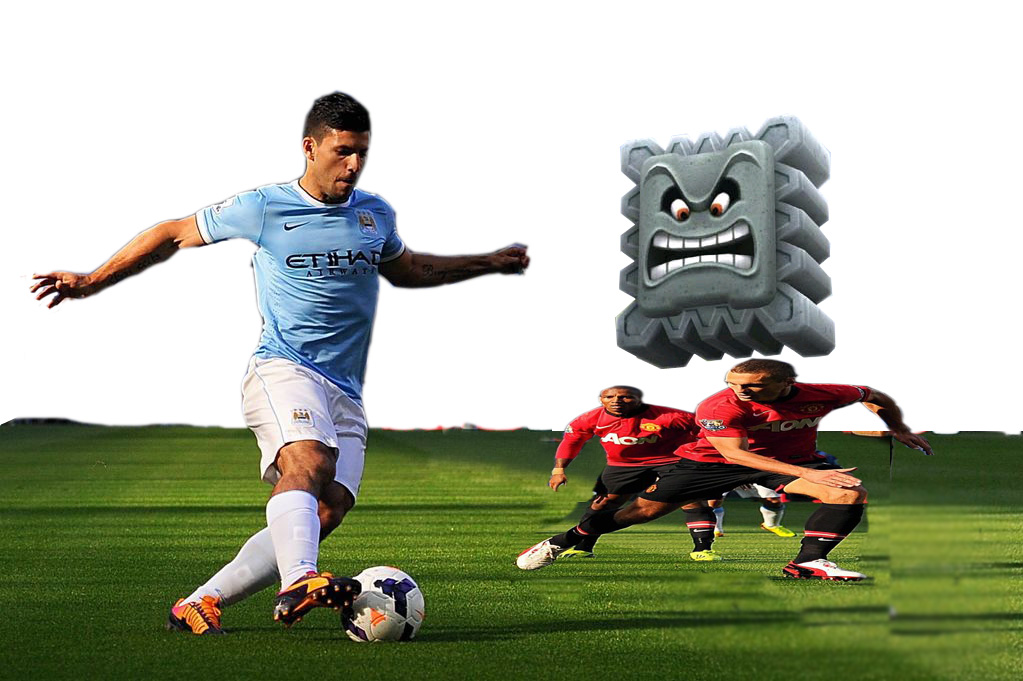 As if David Moyes needed more pressure as he tried to take the mantle from Sir Alex Ferguson. As if United needed Robin Van Persie to miss any of the fixtures this season. As if the United faithful would be okay with looking up at all of their competition in the league table. The last thing that Manchester United needed would have been a big loss to their neighbors, but it looks like any Red Devil will be spending the next few weeks trying to decide whether the league title is an achievable goal or if they should start aiming for getting in the top four.
Will Manchester United be able to salvage some serious position on the EPL table before December? The answer lies in the flaws that City were glad to expose.
Flaw- Manchester United needs some serious defensive shake-ups. Smalling in a wide position was targeted by Manchester City. The young England international has potential and he may be the future for United, but he is not a right-back. Ferdinand and Vidic have been a step slow in all of United's losses this season. Although Vidic has always been one of my favorite defenders, he seems unable to erase the other squad member's mistakes like he used to. Evra gets caught ball watching once or twice a game, and City made them pay for that. Although the opening goal is mostly on Valencia not tracking back on Kolarov, some may forget that Valencia spent a lot of time as the starting right back for United. Moyes needs to start preaching defense as Moyes would be remiss to acknowledge the age old saying that "defense wins championships."
Flaw- Fellaini seems unprepared to be as big a piece for United as he was for Everton. It is tough going from being the main cog into becoming a small piece of the United machine. Fellaini looked confused on where he needed to be during the game against City. Am I supposed to be a defensive-mid? Am I supposed to move forward and help support the attack? Can I hide underneath my afro so that people will not see my inadequacies with this squad? Kagawa and Nani enjoyed the bench for the entire game while Fellaini struggled to look like half the player he was with Everton. His selection seems predicated by Moyes being comfortable with the tall Belgian. If Fellaini does not step up and if Moyes continues to avoid putting in Kagawa, this situation may balloon into a huge issue.
Flaw- Striker dependency for United seems to be affecting their goal-scoring ability. Robin Van Persie had to watch from the stands and United looked toothless without him. Sure, Rooney scored a free-kick, but Joe Hart really only had to make one decent save for the entire 90 minutes. Welbeck seemed like he was afraid to shoot and even tried to lay a ball of to Patrice Evra instead of taking one himself. Rooney looks like he is constantly frustrated by everything around him. If United would like to continue being in the Champions League, EPL, and the other English tournaments, then there will be fixtures where RVP is not available. Moyes must find other options for snagging goals as Rooney will not score a free-kick every time he plays.
United will look to bounce back in the EPL when they play West Brom, but they already find themselves in a position that they have not experienced in the last twenty years. 7 points from their first five games will not breed too much confidence for United and their fan-base, but they will still believe that a turnaround is just ahead. United's next five fixtures are totally winnable, but any points dropped over these next matches will definitely hurt them when the season starts to wind down. Is it times to start aiming for top four instead of top of the league? Sadly, yes…Moyes needs the Champions League guarantee in order to retain his job…and I would hate for the ex-Everton man to be sent packing this early…(plus, United struggling at anything is fun to watch…)