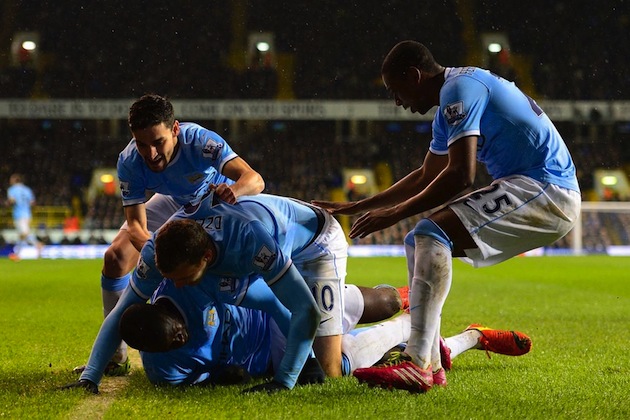 As with the every fixture between any top-tier club after the halfway point of the EPL season, the result will give a boost to a club's hopes or it may derail their ultimate goal. Tuesday's game between Liverpool and Everton showed the top four credentials of the reds and that Everton still have a bit of a gap between themselves and the league's elite. Wednesday's game between Manchester City and Tottenham had a similar feel, but with more extreme effects. City now look like the definite favorites to continue marching towards the title while Tottenham may already be thinking that retaining a Europa League spot could be seen as a success.
The only stat that I feel I can start this article with is that Manchester City have passed their goal total from last season…and they have 15 fixtures left…FIFTEEN! Despite Agüero leaving the Tottenham game with a hamstring issue that may sideline him for a while, City seem to have goal-capable players across the pitch. Jovetic finally found the back of the net, Toure seems less capable of NOT scoring in a ninety minutes than scoring, Silva only needs a moment, Dzeko is a beast, Negredo is THE beast, Kompany can man-handle defenders at corners, Navas has speed for days, and Zabaleta/Kolarov might be the most lethal outside defenders in the business. Heck, even Fernandinho is scoring…City are absolutely rampant.
Tottenham will need to bounce back quickly and return to their previous form if they want to stay in front of Everton and United. Adebayor does not seem like the type of striker to carry you to the end of a campaign and the midfield feels like it houses more projects than polished products. The big cash splash after the Bale exit saw a lot of players with mountains of promise, but Tottenham might now be regretting not spending a small portion of the influx on an older yet proven player. Do they realize that they did a deal with Madrid? A team that sold Özil, waited to re-sign Xabi Alonso, and flirted with constantly tossing Benzema in the trash…right? Could they not have taken a few million less and snagged one of these commodities as they high-tailed it back to London with a mountain of cash still in tow?
Tottenham can still bounce back. And some of their younger players could start to step up (outside of Eriksen…that guy is gonna be amazing). However, the huge belfry of players that Tottenham are having to juggle also seems to be hurting their chemistry. No matter how you spin the build-up to this point, Tottenham now have a -1 goal differential. For a team hoping to push into the top four or, at the very least, stay in the top six, this performance is unacceptable. No other team inside the top ten has a negative differential and Tottenham have barely broken thirty goals at this point (City have 68). The simple recipe to find success for Spurs? FIND THE BACK OF THE NET!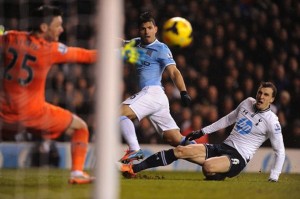 Manchester City spent the first part of the season struggling to find some defensive strength. Joe Hart has returned to form, the back four is not being juggled like hot potatoes, and Kompany has returned to the type of form that makes him one of the best defenders in the entire world. The Etihad has become the ultimate fortress in the Premier League and City are in the type of form that makes them seem unlikely to drop points in any of their next fixtures. As long as City are able to field a constant back-line and if Aguero is able to make a swift comeback, the blue side of Manchester will have the best chance at celebrating at the end of the season. Plus, it would be nice to have gotten a prediction right for once…and I predicted City would be walking away with this season…of course, I probably just jinxed it.
Arsenal only sit one point behind the Citizens and there are still 15 fixtures left in this season so it is anything but over. But, if any team feels going into this weekend that they made the greatest claim to the Premier League trophy during their fixture, it has to be City. No matter what happens in the next few fixtures, I know that I would want no part of City right now…they genuinely scare me and they probably are the last squad a Premier League defense wants to see. Is the blue moon rising over England? If it is, this fixture might be looked back on as the start of the finish…