After 90 minutes of play on Saturday, many new stories emerged from one match between two EPL title contenders. How bad is Agüero's injury? How bad is Koscielny's injury? What/why was Mertesacker yelling at Ozil after the match? And, the one that we will be taking on here, did City take the first step en route to claiming the EPL trophy?
The scoreline at the end of the match did not seem a likely occurrence from the two teams that, before the 6-3 goal explosion, housed two of the EPL's best defenses (in Arsenal's case, the best). However, the two teams definitely showed that they have two of the most potent attacks in the league (in City's case, the best). City have currently scored more than 10 goals over any other EPL squad and even the loss of Agüero seems unlikely to slow down their rapid pace in front of the net.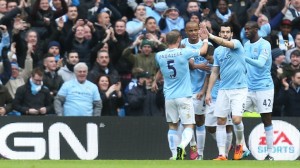 After this game, Arsenal will still find themselves above the rest of the league and fully capable of maintaining their lead. On the flip side, City will feel that they have taken one giant step towards getting back into the top spot. The casual football fan and even the most seasoned manager will be more terrified of a potent attack than of a stout defense, with City walking away from this encounter with a fair bit more momentum and clout than their London counterparts. The key to any weekend like this will be how the team performs in the subsequent fixture. If City walk all over Fulham and get three points from Liverpool, they will certainly look the most likely to be celebrating in May. However, if Arsenal are able to bounce back and get six points from Chelsea and West Ham, the momentum will all return to the red side of London.
Is this article written from the perspective of a hopeful blogger and some semblance that his pre-season prediction might be coming true? Perhaps. But the scoreline against a team that had previously not looked like dropping points against the best of squads and City claiming Bayern Munich's scalp and Arsenal's in the same week means that everyone should be on the lookout for City…the title may indeed remain in Manchester this season but under a different colored flag. But Arsenal will have a chance in the next two weeks to make up for their misstep. GAME ON!