After moving only a few weeks away from a World Cup draw that showed us that anything can happen once the names start getting drawn out of the pots, the Champions League draw has gone and created fixtures that will excite any fan of football. Top-tier teams clashing against each other and the possibility for several upsets means that several teams will be sent packing before even reaching the quarter-final stage. The best part? These teams will have to play each other twice over the two legs…providing us double the action and double the football!
Let's take a look at what the English clubs were drawn into…
Two of the English giants will be hoping to avoid a quick exit at the hands of some of the biggest giants in World football. Arsenal will be hoping to skirt embarrassment against current Champions League holders Bayern Munich and adding to their impressive EPL campaign, while Manchester City will be looking to carry their impressive home-form in a way that will prevent Barcelona from using the Manchester club as a springboard back to Champions League success. City will need to start to extend their Champions League runs in order to start being taken seriously on the biggest stages and Arsenal will want a long CL stay in order to justify the supposed contract offer sitting in front of Wenger.
Chelsea and Manchester United will be hoping to escape without becoming a major headline in the CL fixture list. United will be facing Greek club Olympiakos in one of the easier draws that United could have received. However, because of that, it will place even more pressure on United and David Moyes to succeed in this venture. Stumbling at this stage of the competition to this opposition would probably be the last thing that Moyes would do at the helm of United. Chelsea will be dealing with a "reunion" story in their fixture as Jose Mourinho will be going up against one of his favorite ex-players in Didier Drogba. Although Gala presents a much harder draw than Olympiakos, especially considering the home-field advantage Galatasaray possesses, Chelsea will still be expected to prevail.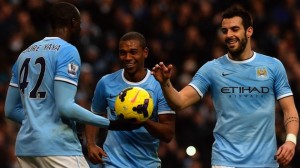 The fixtures for Arsenal and City could see both teams exit and the manager still retain their jobs, especially if both teams stay within a sniff of the top spot in the table. However, the fixtures for Chelsea and United would probably result in a vacant position in the managing world if they are unable to overcome their opposition.
Considering England and Germany are the only two countries with four teams left in the competition, there is definitely still power left in the EPL. However, none of the current entrants (even with City recently taking points against Munich) seem likely to be considered favorites to get any farther than the last 8. For any of them to look hopeful, they will need to perform admirably in the round of 16. How many teams from England will be left after this round? And how many of the team's managers will still have their job? The beauty of the Champions League, ladies and gentlemen!
Take a look at our Champions League Draw review for the non-EPL teams.