For whatever reason, Italy's pre-Euro 2016 expectations were surprisingly low. Perhaps it was the 2014 World Cup, which had not gone as planned, to say the least. Drawn into Group D (which, considering Costa Rica's showing, was the Hindsight Group of Death), the Italians first dispatched England with a Mario Balotelli match winner. Then they lost 1-0 to a feisty Costa Rica, setting up an all-important clash with Uruguay. You probably know what happens next.
We witnessed another Luis Suarez bite, this time he took a chunk out of Giorgio Chiellini's shoulder. Suarez was not sent off, and minutes later Uruguay score to give them a 1-0 win, tossing Italy from the tournament in the group stage.
This disappointment led to manager Cesare Prandelli's resignation, setting the stage for Antonio Conte's entrance. Fresh off three consecutive Serie A titles with Juventus, Conte (who is, um, pretty intense) seemed the right man for the job, but questions remained about what the personnel of his Italian team would look like come Euro 2016.
Turns out, his changes would be significant. He left out Balotelli and Andrea Pirlo, two of the most famous Italian stars. Claudio Marchisio and Marco Verratti sustained injuries that kept them from joining the team as well. All four of those players were key members of the Italy squad that finished runner-up to Spain at Euro 2012. Less familiar names would have to step up in the midfield and attack.
And step up, they have. Despite the lack of star power, Graziano Pelle and Eder have scored three invaluable goals from the forward position. Invaluable, because Conte's Italy is not going to be a team that blows you away with goalscoring dynamite. Organization and discipline are key, so even modest production from Pelle and Eder is a welcome sight. In the midfield, Emanuele Giaccherini and Antonio Candreva may not be household names, but their contributions have helped Italy maintain a vice grip on the middle of the pitch.
To his credit, Conte did prefer some continuity in his squad, opting to start the Juventus defensive triumvirate of Chiellini, Leonardo Bonucci, and Andrea Barzagli, plus 38-year-old Juve legend Gianluigi Buffon at keeper. All four helped Conte win those back-to-back-to-back titles during his time at Juventus. In the three Euro 2016 matches they have all played in, they have yet to concede. Chalk that one up as a win for the status quo.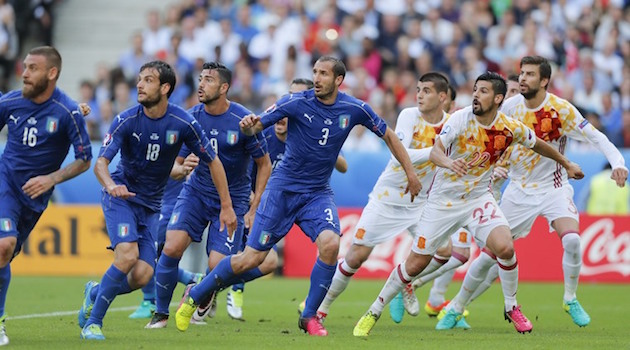 Coming into the tournament, Belgium was widely predicted to win Italy's group, with Sweden and Ireland providing decent competition. From the beginning, Italy made a statement with a 2-0 win over the much more talented Belgians. Conte's team mostly snuffed out Belgium's attack, which features studs like Romelu Lukaku, Kevin De Bruyne, and Eden Hazard. While they did allow 18 Belgium shots, only three were on target. Meanwhile, half of Italy's 12 shots were on target.
Sweden and Zlatan Ibrahimovic were next, and Italy promptly stifled the Swedish striker into just two shots, neither on target. In fact, despite possession being 50-50, Sweden was only able to muster four shots at all.
With two wins already in the books, Conte rested most of their starters for the final group match vs. Ireland. Still, the defense was impressively stout even without Buffon or Chiellini. It took a late Irish winner to break the scoreless tie. Despite the loss, Italy still won the group, which unfortunately set up a Round of 16 match with Spain.
"Unfortunate" for Spain, however. From the opening kick, this match belonged to Conte's men. In a "masterclass" performance, Italy stayed smart and executed the gameplan to perfection. Despite leading in possession and shots taken, it never really felt like Spain would score — even though Buffon had to make five saves. Revenge for the 2012 Euro final had been deliciously served.
These performances have proven Conte's Italy is immaculately organized and fully unified in its mission. You can see this in the stats, where Italy typically give up possession and low percentage shots to remain solidified in the back. Despite this, Italy have gotten more quality shots and chances than their opponent. Conte is showing the world you don't need a roster full of big names that play for big clubs to succeed at the Euros.
What's more impressive is that their path has been far from easy. Their quarterfinal match on Saturday vs. Germany means they will have played three top 6 nations already, according to FIFA (whose rankings are always flawed, but we don't have time to discuss that right now). That's tournament play for you, though. Sometimes you win your group and get rewarded with Spain and Germany in consecutive knockout rounds. The Germans are as technically and intelligently gifted as any country, making for a remarkably tough quarterfinal matchup. Even if they lose, the Italians still might be the second-best team in this tournament.
Although they've had the most demanding road of anybody, you won't see Conte's Italy manufacturing excuses. Sure the challenges are immense, but you can bet no other team is more prepared for this.