It's shaping up to be an interesting run of days for Borussia Dortmund.
On Friday, last year's Champions League finalists drew Real Madrid as their opponent for the competition's quarterfinals round. Despite having dispatched the Spanish powerhouse in last year's semifinals, Madrid presents a much tougher test this year.
The next day, Jurgen Klopp's squad maintained their tenuous hold on second place in the Bundesliga table through an 1:3 result at Hannover 96, bouncing back from a tough 1:2 loss at home to Borussia Mönchengladbach.
To maintain that position, the injury-riddled Schwarzgelben will need to avoid losing a second-consecutive home match on Tuesday when they host fierce rivals Schalke 04 in the latest edition of the Revierderby.
All of this will be topped with a bit of a sour cherry when FC Bayern München, in all likelihood, will have finished their Tuesday night match with Hertha BSC by celebrating the clinching of the league title in Berlin.
Certainly, even the most-optimistic among the Dortmunders will have long since surrendered any notion that the 'salad bowl' was in play for any club other than the one which last hoisted it, but the finality of closure is always an unpleasant little jab in the ribs of anyone who'd come into the season with hope.
With fourth-place Bayern Leverkusen continuing to struggle, the automatic bids for Champions League increasingly appear to belong to the clubs currently in the Bundesliga's top three spots. Dortmund will, of course, still need to do their due diligence and collect points, but a seven-point cushion above the qualification spot means the domestic focus is largely on maintaining their status as the best club in Germany not running roughshod over all of Europe.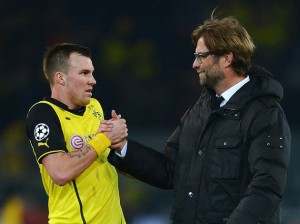 Considering long-term injuries to players like Marcel Schmelzer, Neven Subotic, Jakub Blaszczykowski, Mats Hummels, Sven Bender, and Ilkay Gündogan, and shorter absences of Marco Reus and captain Sebastian Kehl, finishing third would still be a fairly impressive accomplishment for the BVB this season.
But if it means falling behind their rivals from Gelsenkirchen, don't try to sell that to anyone in Dortmund.
Schalke struggled to get rolling this season, winning just two of their first seven matches and quickly falling off the pace of even the top half of the table, much less Champions League contention.
The Royal Blues eventually corrected course, primarily through tightening some defensive inefficiencies. Excluding a very excusable 5:1 in Bavaria, Schalke has not allowed more than one goal against since their December 7 loss at Borussia Mönchengladbach, forcing their way through the battle for Europa League spots and making a sincere play for second place.
Or, just as likely, finishing ahead of their hated rival, whom they've had to watch win multiple trophies in recent seasons. A win in Dortmund would slingshot Schalke ahead of Dortmund and give further momentum to a club already on a pretty good roll. Just two of Shalke's remaining opponents are currently in the top half of the table, while six of Dortmund's final seven opponents are among the top ten in the league, including a trip to the champions in April.
Whatever happens in the near future, the one thing everyone should have learned by now of the Klopp era is that you should never assume anything about Borussia Dortmund. While that is of little concern at this point to Bayern München, you can bet neither Schalke nor Real Madrid will take much comfort in the personnel problems or recent struggles when preparing for their meetings with Dortmund.
Which is why most will not bother watching the final steps in Bayern's historic march to the league title. The real Bundesliga drama this week is happening in Dortmund. Don't miss it.