Although 2014 is still a year away, all of the top teams in world football are hoping to start building a bit of momentum for the world's biggest soccer event. England is still trying to sort out their identity under Roy Hodgson as a collection of veteran and youth footballers donned the red of their country. While England is trying to find their style, Brazil is hoping to reassert their dominance. A mix of young stars primed to be future superstars and long-serving servants makes up a squad preparing to make their country proud in 2014.
The early goings saw Brazil take several shots, but a mixture of being off target and good defending made sure that Joe Hart was not troubled, while England built their attack well until it reached the final third. Though Neymar would test Hart from time to time, he would not be able to christen the new Nike HyperVenom with its first international goal. Barcelona will be hoping that their new asset brings the same attacking impetus but with much better finishing when he suits up for the Catalan giants.
Although England spent most of the first half defending, Joe Hart certainly proved that he will be a fantastic rock that Hodgson can build on as the World Cup draws closer. Last World Cup, England fans and followers will remember that their goalkeeping juggling cost them throughout the tournament, but Hart has definitely put some serious distance between himself and the rest of the British goalkeeping stable.
England would get their best chance of the half as half-time approached, with Arsenal's Theo Walcott blasting a shot directly at Julio Cesar after receiving a fantastic layoff from English right-back Glen Johnson. Sadly, Walcott did himself no favors for selection and he certainly did not make the case that he has been attempting to make with club and country: the move to being a central attacker. England also saw their first choice left-back depart the game with injury as Everton's Leighton Baines was replaced by Ashley Cole. Baines should be fine for the World Cup, but it would have been nice to see him go for a full 90 with this squad.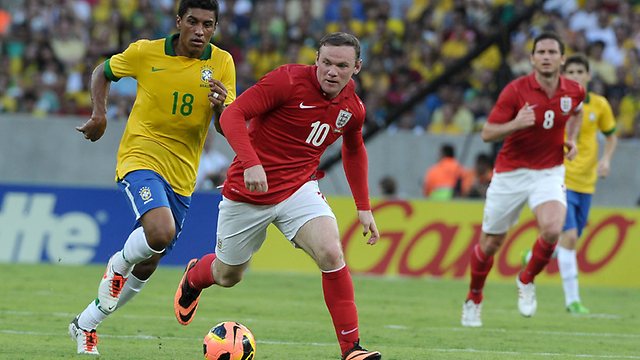 England came out in the second half looking like the half-time talk was still ringing in their ears. Despite holding fantastic midfield and defensive lines, the first five minutes kept seeing an attempt to string some passes together with most of the results ending with a loose pass and a loss of possession. Brazil still seemed to be controlling the match and their passes seemed crisper than their English counterparts. Walcott continued to be wasteful and Joe Hart continued to have the ball at his feet more than England would have wanted.
In the 57th minute, Oscar saw a curling effort crash off the post and Fred was there to volley home the opening goal. Brazil certainly deserved the lead, and it was actually surprising that it took so long for them to find the back of the net. Brazil still seemed more likely to score, but England did make a positive change by bringing in Arsenal winger Alex Oxlade-Chamberlain. Although the "Ox" was not directly involved in all the future attacks, England immediately seemed more dangerous and James Milner came dangerously close as his left-footed shot got deflected for a corner.
Then, as if to compound the inability of club-mate Walcott, Chamberlain scored in the 68th minute off of a well taken volley from outside the box. Some good passing in the midfield got worked through Lampard and, although it may not have been on purpose, a ricocheted pass from Rooney saw Chamberlain tie the game at 1-1. The immediate momentum, despite an England goal, seemed to switch to Brazil and they controlled the tempo for the next ten minutes and saw multiple attacks nearly come to fruition. In fact, England seemed unable to carry that ball out of their own half.
However, a quick counter-attack saw the ball get fed into Rooney's feet and a curling shot that bounced off the back of a Brazilian defender made sure that one player wearing the HyperVenom would be celebrating a goal. The celebrations would be short-lived, as Brazil pegged England back and made the match 2-2 through Paulinho on a volley taken almost right on top of the penalty spot. The goal saw one of the first massive defensive mistakes in the game for England, as Paulinho was in acres of space to execute his shot.
Although a few chances happened in the waning moments, the match would end 2-2. Brazil will walk away feeling that they should have won and that they were the better team, while England will feel it was a great result and that they continued to grow in strength as the match went on. For those of us that are looking forward to Brazil 2014, this match is a great appetizer for the upcoming main course.