As we grow closer and closer to the World Cup, roster spots are being locked down and most international managers are probably 95% certain on which players will be heading to Brazil for the Cup. However, for England, rumors are swirling about which strikers Roy Hodgson will take to Brazil once the plane departs in June. Despite housing one of Europe's premier competitions in the EPL and providing amazing football at every turn, England's national team has very few areas of the pitch where the positions are locked down…with their strike-force being one of the most worrying.
First, we will cover the absolutely "forehead-slapping" players that Hodgson (hopefully) already has a seat reserved for on the outgoing flight. Although Daniel Sturridge is benefiting greatly from the fact that teams have to split their focus between him and many other potent attacking options (i.e. Suarez), the Liverpool striker is still the 2nd highest scorer in the EPL and should be an easy choice. The only other choice that should have already been made should be the inclusion of Wayne Rooney. Despite the fact that Wazza has struggled a bit in this campaign, Rooney is still more capable of most English striker options to perform on the biggest stages. Considering the way he performed at past World Cups, Rooney will also be hoping to prove that he can be a prolific striker and player outside of the Manchester United bubble.
The choices that astound me, and choices that many players, coaches, and pundits are throwing around, number a fair bit higher than the "easy" choices…and we will not even cover them all!
Statements have recently been made about the inclusion of strikers Andy Carroll and Peter Crouch. Andy Carroll will have only been back from an injury for a little over a month when Hodgson is making decisions, and although the striker has looked decent and performed well in the air, Carroll needs to be left at home. The ex-Liverpool signing would encourage the English national team to play too many "route-one" balls while their biggest talent lies in the attacking prowess on the wings. Crouch would encourage the same thing, and while the team does need a striker that can hold the ball up, the World Cup also demands a striker that can create his own goal or a goal for a teammate from time to time. Carroll and Crouch are not the least bit creative and both will be jumping into international competition straight from relegation-style play.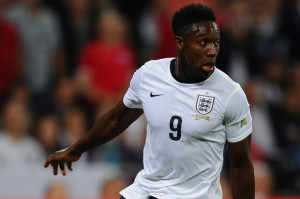 The other arguments floating around will be for Danny Welbeck and Jermain Defoe. While Defoe actually intrigues me (depending on what kind of form he is showing in the MLS once the time to name a roster comes), Welbeck's extreme lack of anything positive this season should keep him off the squad. Yes, he is young and he could provide a bit of pace late in a game, there are English wingers that would provide a better option and be a more positive roster selection (and more late-game pace). Defoe started the MLS season brightly, but he should only be on the plane if his play absolutely demands it. Taking a player having a mediocre MLS season should only be done by teams that have no choice in the matter.
When England has the option of first-class wingers in the form of Sterling, Ox, and others, it would be simpler for Hodgson to build a team using those players instead of dragging unnecessary strikers with him. However, Hodgson has never really been one to avoid playing "route-one" style football, and his decisions might reflect that. For England, their hope should definitely be that they can field a decent squad before any more of their starting 11 pick up injuries. With Walcott and possibly others missing the World Cup already, England will certainly be hoping that no more ill-will befalls their players. Considering the difficulty of their group and the extreme desire of the fan-base for their success, they will need all the help they can get.