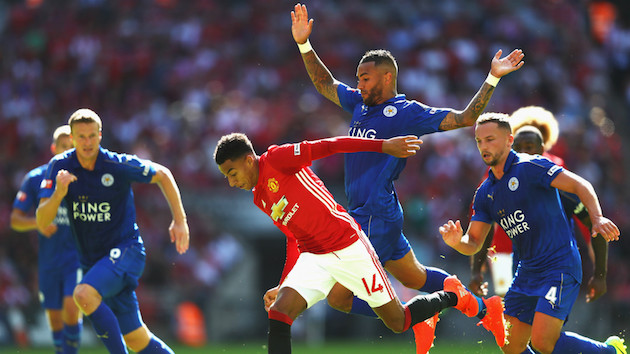 Last year, we all witnessed one of the most remarkable underdog stories in the history of professional sports. Leicester City went from relegation favorites to title winners in remarkable fashion, and now every team in the league must feel like they have a chance to repeat the Foxes' title run. How will the top teams pan out in the latest installment of the English top flight?
Leicester City
It's hard to remember a time when the reigning champions weren't favored to at least finish in the top four. Despite their success last season, doubts remain whether or not the Foxes can repeat their eye-catching form. Luckily for fans at the King Power Stadium, only one of their star names this summer (so far), and they've even managed to nab a few big names to strengthen their squad.
N'Golo Kanté's impact in the midfield will definitely be missed, but Ahmed Musa's pace upfront will give Jamie Vardy some much-needed reinforcements. This depth in attack will be vital to Leicester's chances of success, especially with the crowded fixture list they'll face this season. The Champions League, League Cup, FA Cup, and oh yea the Premier League will push the Foxes to their limit, and any injury could spell disaster.
Claudio Ranieri has proven himself to be an excellent man manager, and has an unbelievable ability to get the most out of his squad's talent. Rewarded with a fresh four-year contract, it's clear the ownership has full faith in the Italian, and rightfully so. Even with Ranieri at the helm, and the addition of Musa helping to lead the line, I just don't have a lot of faith that the Foxes will be able to cope with the crowded schedule.
Predicted Finish: 7th
Arsenal
This summer has mimicked pretty much every other summer for Arsenal fans. A big name signing (Granit Xhaka) was added to the ranks and hopes that Stan Kroenke's rumored warchest would finally allow the Gunners to add several more stars to the roster. Apparently the Rams' owner has decided to invest the money into his NFL team's move to Los Angeles, and Xhaka has remained the only big name transfer.
The preseason has also seen Arsenal's defensive unit battered with injuries. Per Mertesacker, Gabriel and Carl Jenkinson are all out for at least two months. This leaves Laurent Koscielny as the only veteran presence in the center back position. The addition of Rob Holding adds some depth to Wenger's center back pairing, but him and Calum Chambers are hardly who'd you want to rely on week-in-and-week-out.
Even with this defensive frailty, and lackluster summer spending, Arsenal still have world class talent with Mesut Özil and Alexis Sanchez. Upfront, despite the criticism that he receives from seemingly the bulk of Arsenal fans, Olivier Giroud can still do a decent job of finding the back of the net. Petr Cech is still the world class keeper that helped guide Chelsea to countless trophies, and I doubt that will change this season. The Gunners are still a team to be worried about in 2016/17.
Predicted Finish: 4th
Totenham Hotspur
I still think it's hilarious that despite having one of their best seasons in history, Tottenham still managed to finish behind Arsenal. All jokes aside, I think Tottenham have to be considered one of the favorites to compete for the top spot this season. They have an excellent manager leading them, and arguably the best young core in the league.
Harry Kane, 23, took home the Golden Boot last season with a stunning 25-goal tally. Dele Alli, 20, emerged as one of the most exciting young midfielders in Europe with quick feet and stunning goals. Christian Eriksen, 24, continued to cement himself as a consistently brilliant player behind the strikers.
This young core has been bolstered with the addition of Victor Wanyama from Southampton, and their staunch defensive unit will remain unchanged. It's difficult to find a weakness in Tottenham's squad, and the only issue that I could see stopping them from the title is the massive amounts of money that Manchester City and Manchester United have spent to re-establish themselves as the dominant forces in England. Will the youngsters be able to cope?
Predicted Finish: 3rd
Manchester City
The biggest name to join City this summer wasn't even a player. Pep Guardiola made the move from Bayern Munich, and his résumé is nothing to be scoffed at. He's won countless trophies at the helm of Bayern and Barcelona including two Champions League titles, six domestic championships, and even three Club World Cup titles just to name a few. While his name carries a lot of weight, it's worth noting that the team's he's managed in the past have been stocked with their fair share of talent.
Granted, even when a team has an unfair amount of talent, it still takes an expert manager to develop the tactics and handle all of the egos in the dressing room. While City don't have the same level of Bayern Munich at all of their positions, they still have plenty of big name players in Sergio Aguero, summer-signing Ilkay Gündogan, Nolito, Kevin De Bruyne and David Silva.
Guardiola has invested a lot of money in young players this summer with John Stones (£47.5 mil), Leroy Sané (£47 mil) and Gabriel Jesus (£27 mil) moving to the Etihad (Jesus won't join them until January). With all of the money they've invested this year, expectations are, as usual, very high for the Cityzens. With Pep at the helm, anything less than at least a league title will be considered a disappointment.
Predicted Finish: 2nd
Manchester United
As a great Canadian poet once said, "What a time. To be alive." It's hard not to get carried away as a Manchester United fan right now. We have "The Special One" leading the charge, and José Mourinho's reputation has helped attract some world class talent (back) to Old Trafford. Even without the allure of Champions League competition, the Red Devils have had the biggest transfer window out of almost anyone in the world.
You know it's a big summer when Zlatan Ibrahimovic isn't even your club's biggest signing. This week, the Red Devils made Paul Pogba the most expensive player in the world, and expectations are reasonably high. Ibra and Pogba join Henrikh Mkhitaryan and Eric Bailly as Old Trafford's summer arrivals, and returning players such as Anthony Martial, Marcus Rashford and David De Gea give United their strongest team in years.
The attitude at Old Trafford seems to be pretty clear: Man U are in it to win it. Mourinho and Pogba have outlined their ambition to win big titles at the club, and despite their fifth place finish last year, I think that they're the favorites to take home the title. Then again, I might be a little biased in my opinion.
Predicted Finish: 1st
Liverpool
Joining the list of world-renowned managers in England is Jürgen Klopp. The "Normal One" raised spirits at Anfield last season after his arrival in October. Klopp helped lead the Reds all the way to the Europa League final, but wasn't able to resurrect them back into the top four. This year, they'll be joining United in the Europa League, and fans will be hoping for a repeat of their near-title run from last season.
The best, and biggest, part of Liverpool's lineup has to be their midfielders. Summer additions of Georginio Wijnaldum and Sadio Mané will compete with Roberto Firmino, Philippe Coutinho, James Milner, Jordan Henderson, Adam Lallana and Emre Can for playing time. Unless they're going to play the famed 1-8-1 formation, Klopp is going to have a difficult time managing player expectations.
While their midfield is stacked, their defense is still paper thin. Their only real left back is Alberto Moreno, and Mamadou Sakho and Joël Matip are the two most senior center backs. This could pose a problem if anyone gets injured, and let's not forget that Sakho has been forced to sit out the last couple of months through suspension. This defensive frailty will be their downfaill.
Predicted Finish: 6th
Chelsea
Last but not least on the preview list: Chelsea. The Blues, just like City and United, introduced their own star quality manager in Antonio Conte. The 47-year-old is coming off of managing the Italian national team and before that, he led Juventus to three Serie A titles. Not a bad record.
Conte's fierce coaching style should add some excitement on the sidelines, and he's made two signings to add to the excitement on the field. Kanté's switch from Leicester will bolster the Blues' midfield and he provides them with strong defensive option, a position that was severely lacking in depth. Joining him will be Belgian striker Michy Batshuayi. With Diego Costa reportedly unsettled at the Bridge, the 22-year-old form Marseille could well be the team's first choice striker for large parts of the season.
While Kanté and Batshuayi are both solid additions to Conte's roster, I'm not sure they really match the signings of Liverpool, City and United. I don't think that they'll match the disappoint of last year's tenth place finish (as much as I would like them to), but a title push may be a little too far out of reach.
Predicted Finish: 6th