Let's take a quick look at the upcoming EPL weekend, mostly the games that are important.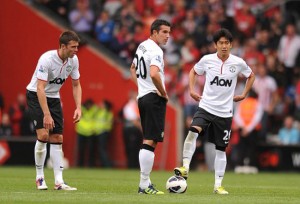 Game of the Weekend: Southampton v. Manchester United
It's too early to say this is a must win for United, but this may be close. They pulled of fortunate win over Southampton, bailed out by the hopeful and resourceful youngster Januzaj (who, apparently, is being pursued by England — what). Southampton, meanwhile, is enjoying their moment. They sit in 4th after a comfortable win against Swansea in the last round. They've collected 5 clean sheets, one of the best defensive records in Europe. Rickie Lambert and Adam Lallana have spearheaded the front line for the Saints, while Rooney is pulling the strings for United. A tough game, but United should pull it out at home. But it won't (okay — shouldn't) be a cakewalk.
Projected Result: 2-1, United. David de Gea with both goals.
Liverpool v. Newcastle
Newcastle hasn't been too great since they blasted apart the EPL two seasons ago. They're strong on paper, but they just can't get it together. They eked out a win against Cardiff last round after getting handled by Everton. A point against Liverpool isn't out of the question, but it'll be tough. Sunderland next week should be an ugly victory, but then they face City. Meanwhile, Liverpool is top of the league and show no signs of slowing. Suarez is back and will be eager to prove that the EPL is better with him (if also sporting some bite marks). Sturridge is on fire. But Coutinho has been excellent for the Reds, and his absence may prove difficult to overcome. Moses' arrival to the squad has been helpful, but Sterling will need to step up to fill the void. Liverpool take the three points here, ultimately with relative comfort.
Projected Result: 3-1, Liverpool. Kolo Toure with all 4 goals, and slaps NUFC goalscorer Remy.
Chelsea v. Cardiff
Cardiff could really use a point here. They're already in the red for goal differential, and losses to Newcastle and West Ham sting. They can't find a consistent goal scorer, and while their average of just over a goal a game isn't terrible, it's not great considering the low-scoring start the EPL has had. Meanwhile Chelsea will look to build on their last two weeks where they scored 7 goals and conceded 1. They're at about .5 goals concede per game, which is solid. But the striker problem persists. Mourinho was misguided in August, letting proven EPL goal scorer Lukaku leave and bringing in the slowing, aging Eto'o. Chelsea win here, comfortably, but someone up top needs to find the net before the Blues take on Schalke at home and then City at the Etihad.
Projected Score: 2-0, Chelsea. Nobody scores but Chelsea win 2-0 anyway.
Arsenal v. Norwich
Buzz saw, meet plywood. Arsenal sit atop the league, scoring goals for fun. Giroud and Ramsey both have 4, Ozil has 3 assists with a pair from both the French and Welsh man. Arsenal are good. Everybody seems to be fully hitting their stride; Giroud looks comfortable with Ozil behind him. The German is tearing apart the EPL (despite La Liga players supposedly being unable to adapt to the 'physicality and pace' of the EPL) and Ramsey can literally do no wrong. Norwich, meanwhile, sit at 18th, and can't seem to score. 4 of their 7 games have been decided by a goal; their only multi-goal game came against Everton in the season opener. Norwich have taken 3 points from 3 away games, which isn't bad. Arsenal haven't been too great at home, specifically against Villa in the opener, but a win over Tottenham looks pretty good on that resume. Arsenal will keep marching on, but I have a sneaking suspicion Norwich may steal a point. I'm not confident enough to 'predict' it, but it's a suspicion.
Projected Score: 3-0, Arsenal. Ramsey scores 3 goals from 1 shot. 
Other notables:
Everton v. Hull — Everton win this one, but make it more difficult than it should be.
City v. West Ham — West Ham snag a point against the dysfunctional City.
Tottenham v. Villa — The Spurs march on.
A disclaimer: I'm an idiot. All projections are most likely going to be radically and embarrassingly wrong.