Matches have been played, groups have been settled, and tickets have been booked. Through all of that there are still 4 Euro 2016 spots up for grabs. 8 nations will face off in a home and away playoff structure. Let's take a look at those games and give our predictions for who is going to make it to France.
Hungary vs Norway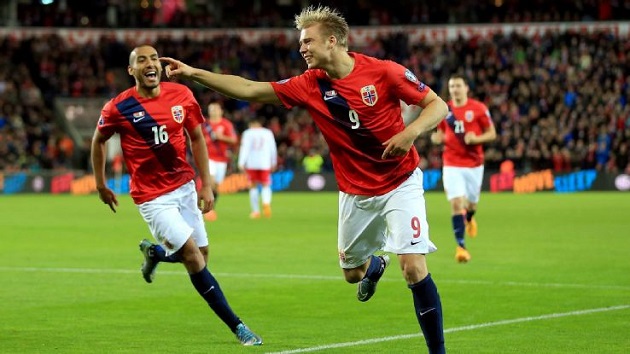 The first teams to kick off will be Hungary and Norway. Norway's last major tournament appearance was Euro 2000, while Hungary's was the 1986 World Cup in Mexico. So one of these teams will see their tournament drought end. Norway finished third behind Italy and Croatia in their group, pretty much performing to expectations during the group stage. Hungary on the other hand, underperformed and finished behind Northern Ireland and Romania.
Both teams have a mix of domestic league and international players. Wunderkind Martin Odegaard has been hailed as the future of Norway, while Hungary brings a more seasoned roster, with only 5 players under the age of 25. An interesting stat to note on the Norway squad, is that no one has more than 3 international goals or 48 caps. In fact, combined, the entire roster for these playoffs only have 14 international goals. Contrast that with Hungary, where 29-year-old forward Tamas Priskin alone has 16 international goals.
Prediction: The first leg will be played in Oslo, Norway, leaving the second leg to be played in Budapest, Hungary. First legs are critically important, but knowing how many goals you need at home during the second leg is definitely an advantage. Hungary has experience and proven goalscorers, Norway does not. I'll take the Hungarians to punch their ticket to France.
Ukraine vs Slovenia
Both of these countries have relatively young football history. They were both part of larger empires (Soviet Union and Yugoslavia), and earned their FIFA credentials as an individual country in the early 1990s. This will also be a rematch of sorts, reliving the playoff for Euro 2000 when these teams faced off. Slovenia prevailed that time, vaulting them to great success qualifying for major tournaments, considering they are a country of just over 2 million. Ukraine on the other hand, have struggled, only qualifying for one major tournament, while hosting another, despite a population of closer to 40 million.
Ukraine will field a side of almost exclusively domestic players. Of the players called up, only captain Anatoliy Tymoshchuk and Yevhen Konoplyanka play for clubs outside the country. Slovenia's roster is almost the exact opposite, with only 1 domestic player called up, Nejc Vidmar, the 3rd goalkeeper. The rest of the squad plays across Europe and Asia, with clubs both large and small.
Both sides finished 3rd in their groups, which was pretty much on par with expectations. Both sides have a good mix of youth and experience. The first leg will be in Ukraine, with the second following in Slovenia.
Prediction: Something about the prior history and success of Slovenia in playoff spots is urging me to pick them. Despite being the biggest underdog in the playoff, I'm going with Slovenia.
Sweden vs Denmark
Sweden versus Denmark, or should we call it Zlatan vs Denmark? Everyone knows Zlatan, and this is likely his last shot at a major tournament. Either fortunately or unfortunately, depending on how you look at it, there are 10 other Swedish players on the field with him. Denmark has a couple stars of their own, including Christian Eriksen.
Both sides have qualified for multiple major tournaments, and both have a mix of domestic and international club players. Sweden might have the best player on the pitch, but this is a team game with 11 players. Both sides finished a little disappointed with their 3rd place group showing, only finishing 2 points off of a automatic qualifying spot. Winning this playoff would eliminate any of that disappointment. The first leg is in Sweden, with the second in Denmark.
Prediction: Zlatan. Sweden. I think the Swedes punch their ticket to France.
Bosnia and Herzegovina vs Republic of Ireland
In what might be the most even matchup of the playoffs, we have Bosnia and Herzegovina versus Republic of Ireland. Both sides have some bonafide stars, including Edin Dzeko and Robbie Keane, respectively. Ireland has been in a bit of rough patch over the past 20 years, only qualifying for 2 major tournaments. Bosnia and Herzegovina have 1 major tournament appearance in their history (since 1994), that being the 2014 World Cup.
As for the matchup, both sides have struggled in recent months, with Bosnia & Herzegovina losing 2-1 to Cyprus in group play. Of all the players called up for these two matches, not a single one plays in the country's domestic league. This matchup is about as even as it gets, and I am very excited to see how it turns out. The first leg is in Zenica, Bosnia, while the second leg will be in Dublin, Ireland.
Prediction: I look for Robbie Keane to provide some superior leadership, score the pivotal goal, and take Ireland to Euro 2016.