Here we are, just a few months removed from the World Cup, already gearing up for another major tournament. That is right, Euro 2016 is just around the corner, and qualifying has already begun. We now turn our attention to the qualifying campaign through matchday 3.
The tournament will be held in France in 2016, with the hosts having won the tournament two times, in 1984 and 2000. This will mark the first time that the tournament will expand from the traditional 16 teams to 24 teams. France already owns one of those qualified spots, by virtue of hosting the tournament, leaving 23 other nations hoping to join them. The winner of the tournament will qualify for the 2017 Confederations Cup, unless the champions are Germany or Russia. Russia qualified as hosts of the 2018 World Cup, while Germany qualified as the 2014 World Cup Champions.
There are 53 teams who entered the UEFA Euro 2016 qualifying, each being drawn into eight groups of six teams, while there is one group of five teams.  The group winners and runner-ups will qualify automatically for the finals in France. The best third place team will also qualify automatically, while the rest of the third-placed teams will be paired up in a home and way two-legged playoff, with those winners also qualifying for Euro 2016.
Group A: Iceland, Czech Republic, Netherlands, Latvia, Kazakhstan, Turkey
While many expected the Netherlands to dominate and let the rest fight it out, the Dutch have struggled thus far. Iceland and the Czech Republic are tops in the group with 3 wins in as many matches. The Netherlands are a distant 3rd with 3 points, while Turkey is bottom with a single point, so one match can change the whole dynamic of the bottom of the group.
Group B: Andorra, Wales, Cyprus, Belgium, Israel, Bosnia-Herzegovina
With stars Gareth Bale and Aaron Ramsey, Wales top the group with 7 points, while favorites Bosnia-Herzegovina and Belgium are 3rd and 5th in the group. Israel and Belgium have played one less match, but are still in second and third. Plenty of time left, but this group is something of a wildcard for the tournament.
Group C: Spain, Ukraine, Luxembourg, Belarus, Macedonia, Slovakia
Slovakia, Spain, and Ukraine are the top three in the group right now, and many expect that these same three will continue to be at the top. Slovakia did upset Spain 2-1 at home, but that is the only surprise so far in this group. Very few expect Macedonia, Belarus, or Luxembourg to make much of a splash during qualifying.
Group D: Poland, Georgia, Gibraltar, Germany, Scotland, Ireland
Germany are the heavy favorites in this group, although Poland hold a 2-0 loss over the Germans already. Georgia and Gibraltar haven't been given much of a chance to progress, but anything can happen.  Most of the debate is whether Scotland or Ireland will come through as the third place team in the group. Tough draw, but this group should be a lot of fun to watch as qualifying progresses.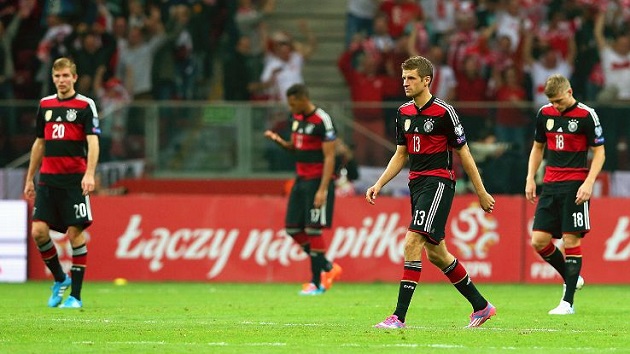 Group E: Estonia, Slovenia, England, San Marino, Switzerland, Lithuania
England and Switzerland are the heavy favorites, while San Marino are undoubtedly the minnows of this group having never won a competitive fixture in their history. Slovenia qualified for the 2002 and 2010 World Cups, giving Group E an additional team with major tournament experience. Estonia does hold victory over Slovenia, while Lithuania defeated Estonia. England have had a decent start, winning all three of their matches, but in underwhelming performances. Switzerland have struggled, with only 3 points from three matches to begin qualifying. Expect the Swiss to begin playing better and ascend to the top 2 of the group.
Group F: Romania, Finland, Faroe Islands, Northern Ireland, Hungary, Greece
This may be the weakest group in qualifying, especially since favorites Greece have struggled; only gaining one point through 3 matches. Northern Ireland have done well to secure the top spot in the group with the maximum 9 points from three matches. Good luck predicting the results of this group, especially if the Greeks don't live up to their hype.
Group G: Russia, Austria, Moldova, Sweden, Montenegro, Liechtenstein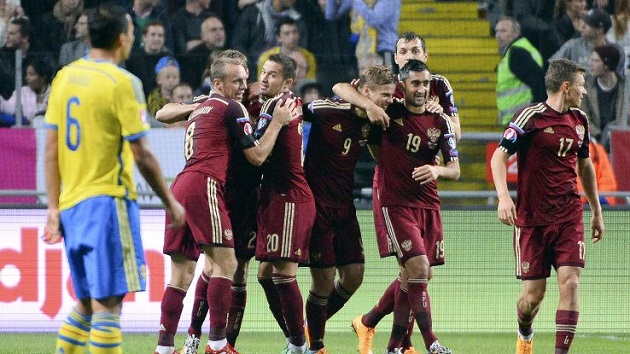 The majority of predictions have Russia, Sweden, and Austria in their top 3, but there is a reason to play the matches, as Moldova tied the Russians 1-1 in Moscow. Sweden have issues as well, as captain Zlatan Ibrahimovic has an injury to his heel, while doctors are not exactly sure what the problem is. Austria has jumped to the top of the group with 7 points thus far. The Russians have been disappointing, and need to turn it around, or else there will be public outrage in the host country of the 2018 World Cup.
Group H: Bulgaria, Malta, Italy, Croatia, Norway, Azerbaijan
Croatia and Italy have ascended to the top of the group as expected with 9 points. Norway are in third with 6 points, possessing a win over fourth placed Bulgaria. Malta and Azerbaijan probably won't be booking any flights for France, but may cause a few upsets here or there.
Group I (5 teams): Portugal, Serbia, Albania, Denmark, Armenia
Many chastised FIFA for not placing Serbia and Albania in separate groups due to the political nature of both countries laying claim to Kosovo. The first meeting between the two was abandoned after a drone flew over the pitch with a Albanian flag with political symbols, causing unrest from fans and player's fearing for their safety. FIFA awarded Serbia with a 3-0 win, although they docked three points from the Serbs, while handing a fine to both countries. Essentially, both teams lost that night, giving some early drama to qualifying. Since there are only 5 teams in this group, not all the teams play on every matchday, with only Albania and Denmark competing in three so far, both with 4 points. Portugal are the favorites, but lost to Albania, setting up a whirlwind for this group. If you want to see drama during qualifying, this is the group to watch.
The main theme for this tournament is the expansion from 16 to 24 teams, giving some countries who otherwise wouldn't, a chance to qualify for the finals in France. With only 54 total members in the confederation, just less than one half will make it to France. All in all, this new format gives hope to some of the smaller nations hoping to grab a coveted spot for the tournament in France.