The World Cup might still be two years away, but that doesn't mean that the summer of 2016 is going to be anything other than magical. With the Copa America happening right now within the United States, there's plenty of footy to satiate any fanatic. However, crossing the Atlantic ocean during June and July will see you crash headlong into the European Championships. A tournament comprised of the best footballing nations of Europe, and a tournament plunged deep into the mirth of quality seen from European soccer. A chance to shine in your continent and be remembered as legends of the game; it's a crown for an area that proudly proclaims to be the birthplace of the world's game. In 2016, one country will rise and be proclaimed as king…bring it on!
With the Copa America in full swing and the goals finally starting to flow, it's tough to think that there will be another dose of elite soccer for us to enjoy. Yet, here we are, preparing to dive headlong into the European Championships. With that in mind, the Center Circle has decided to give you a group-by-group look at what we can expect, what to watch for, and who we see moving on from the group stage. It's Europe, it's for a major title, and it's going to be amazing!
GROUP D
Group D consists of defending champions Spain (victorious in the last two Euros), the midfield firepower of Turkey, the midfield intelligence of Croatia, and relative X-factor in the Czech Republic. It would be simple to crown Spain as the easy winners, but recent performances show a team in flux, not in dominance. Still, it's always a foolish mistake to rule out the Spaniards…
Spain comes into this tournament in a weird state. Despite international dominance between 2008-2012, the team is now faced with an array of questions. Del Bosque will, undoubtedly, stick with Spain's possession passing game, but the stage is set for a change in the personnel used. This might be the last time that we see the "old guard" getting lots of time playing for their country, and the window has never been bigger for other teams to get a positive result against Spain. Always capable of being absolutely brilliant, it's going to take constant brilliance to see this team succeed in France.
While it will be sad to imagine stars like Fabregas, Iniesta, Ramos, Pique, and Silva not playing forever, their inclusion in Spain's next World Cup campaign would not be in the pivotal roles they've occupied for over a decade. This Euros is a time for the upcoming stars in the Spanish National team to stake their claim and ensure Spain remains a top contender for years to come. Koke and Thiago running the midfield, Barta and Bellerin owning the defense, and Alvaro Morata filling the striking void Spain has had for years. It might not be the best moment for Spain in terms of success in the present, but the future is incredibly bright.
PREDICTION: First in the group.
WHY: Too much talent in every position…
One of our first big "underdog" picks in our previews is Croatia, and, in true "horrible choice" fashion…it's based more on our gut than on tangible evidence. Although this is a team built with a fine mix of youth and experience, there's a reason they are actually one of the lower ranked teams in the tournament. Recent manager turnover and a struggle to gel in attack might hamper their progress, but we're going to try and put our money where our mouth is.
Any midfield that will boast Luka Modric, Ivan Rakitic, and rising star Mateo Kovacic will have definite potential. Considering this group isn't the strongest when it comes to stingy defenses, this could be enough to bring Croatian success. While Mario Mandzukic will probably start as the lead striker, the player has yet to see his club form carry over…which might result in the young crop of up-and-coming stars in this team get a chance. Yet another country whose players aren't currently on major club radars, but should be by the end of the tournament.
PREDICTION: Second in the group.
WHY: The ability to weather midfield storms in the shaky stage of group play.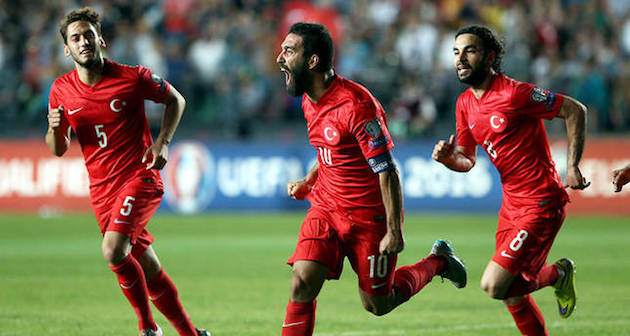 Turkey should be one of the teams vying for third place qualification, and they have the midfield firepower to accomplish that. Arda Turan looking to prove Barcelona's faith was worthwhile, Hakan Çalhanoğlu ready to step into the role of a midfield for a much bigger club, Nuri Sahin still trying to shake off his failed Liverpool move, and soon-to-be-on-everyone's-transfer-list Ozan Tufan (or, at least on your FIFA transfer list) will be formidable. Sadly, a lack of quality on the back line and the top of the attack won't get them to the top of the group. For the Czech Republic, time has run out for their window of success. Known for surprising oppositions, few will underestimate them this time around…but their age won't help. Sure, since we've said this, they'll definitely prove us wrong…but we're dead set.
PREDICTION: Turkey in 3rd and Czech Republic in 4th
WHY: Midfield attacking for Turkey and age against the Czech Republic.
There you have our Center Circle guide to group C. We hope that something in here helps you sound a bit more intelligent than your mates, but, a bit more selfishly, we just hope we get our predictions right. Keep an eye out for the other group predictions and enjoy the Euros!
Euro 2016 Group Previews: