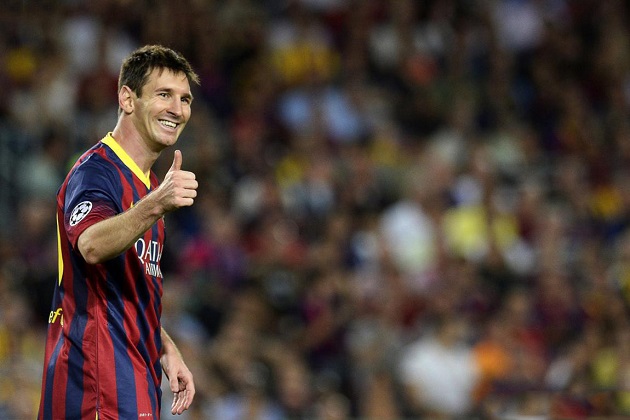 The beauty of transfer rumors are that any person even remotely associated with the game can make a joke about a certain player leaving for another club and, if certain people overhear it, the story could explode into a full-fledged phenomenon. With that in mind, the footballing world has provided me with my current favorite story and transfer rumor of 2014: Manchester City buying Lionel Messi. While the story might completely end up being a total fluke (especially as City manager Pellegrini recently tried to quell this rumor), the mere mention of Messi, City, and the EPL together has me woozy. Let's break it down…
The biggest, most obvious reason that I love this rumor is that Messi will have to prove that his talents extend beyond Barcelona and La Liga. While the Messi/Ronaldo debate will live on until one either achieves a World Cup or the other suddenly experiences a total nose-dive in form, Ronaldo can claim success in multiple major European leagues. Although CR7 is currently dominating with Real Madrid, he showed his amazing talent with Manchester United before joining Los Blancos. If Messi is able to make the transition, it would be difficult to not place Messi a fair distance above his Portuguese competitor. Plus, the statement about Messi being able to compete against Stoke has started to get old and the situation actually happening would be a fascinating watch.
The second reason would be what City would pay and how Barcelona would use the funds. The number attached to the rumor seems to circle around 200 million Euros (278 million dollars), which is more money than Everton and Swansea are worth COMBINED (according to 2012 club valuations). Would Barcelona be able to build the greatest squad of all time with that big influx? Would City ever be able to recover from such a big expense (think about the jersey sales though)? With that much money, Barcelona could purchase a completely new starting 11 and would definitely find cover for nearly every position. While Messi's impact truly seems irreplaceable, that much money could still be seen impacting Barcelona long after Messi retires (still…it would be the toughest decision EVER for Barca management to lose the Argentine).
If any more comes from this story, it might be too much for me. The "Will He/Won't He Succeed" stories would start to flow and anything less than 25+ EPL goals a season from Lionel would be seen as a failure. Plus, his amazing ability to avoid injury (most of the time) would truly be testing in England's physical style of play. The move would also rocket the EPL back into a conversation about the best league in the world despite some questionable Champions League performances; such is the power of Messi's presence.
So, here is the situation that you are presented with: do you take the money or hold on to your superstar talent? Considering that City would be triggering Messi's release clause, it actually seems like the decision might fall to Messi and his agents instead of Barcelona's management. With that in mind, if you were Messi, would you make the move? Would it further cement his legacy as one of the best? As THE best? No matter what, the idea will ALWAYS be fun to entertain.