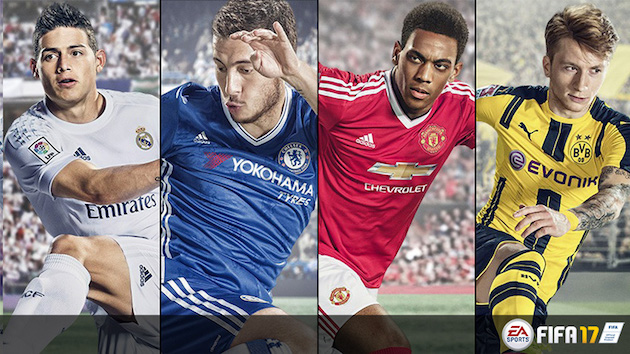 It's one of my favorite times of the year. It's finally time for EA to start slowly releasing information about the latest installation of FIFA, and for me to quickly get my hopes up. This year, the team over at EA have introduced some brand new partnerships and features that might actually make FIFA 17 live up to my impossible expectations.
Frostbite
No, this isn't a feature that makes the snow slowly limit player's blood flow in game. It's actually a pretty exciting partnership with a graphics company that works with the Battlefield franchise, and the early trailers give fans plenty to be excited about in the graphics department. Incredibly lifelike player animations, mixed with more behind-the-scenes shots (e.g the tunnel, locker-room and manager's office) gives players that extra layer of authenticity. Now I can really feel like I'm playing in the Premier League and not ignoring my work, school and girlfriend to play a video game.
With all of that being said, graphics can only do so much for a game if the gameplay itself isn't improved. As always, EA promised improved intelligence and player performance in the game, but those have sometimes been hollow promises in the past. The key points for this game were better defense, an entirely new system for set pieces, and more off the ball intelligence. Will these adjustments actually make a difference or will it just be a nicer looking game with no extra meat.
The Journey
The biggest addition has to be a brand new game mode called "The Journey." It's essentially a more in depth version of career mode where you control a player called Alex Hunter. In this new mode, you are responsible for making Alex's decisions that can either see him grow into an international star or fail and end up on Chelsea. This is eerily similar to NBA 2K's career mode where you control a player through a Spike Lee joint.
Even if this is a blatant rip off of 2K, I am still very excited to see how well the EA team did with this revamped career mode. Unfortunately, if you're not a fan of the Premier League, Alex Hunter's path must stay in England. Maybe they'll expand on this in future versions of the story, but it is a little disappointing that the game mode is still limited. With so much hype and focus spent on Ultimate Team, it's nice to see an offline mode getting some love as well.
Managers
One thing that has been lacking from the virtual sidelines for far too long is a manager. This year, however, FIFA will introduce Premier League managers to the game. With superstars like José Mourinho, Arsene Wenger, Jürgen Klopp and Pep Guardiola battling it out this year in the Premier League, there really isn't a better time for them to introduce this feature to the game.
Just like the players, the introduction of the Frostbite engine means that the managers will be incredibly lifelike. That means that you can hopefully see the disappointment form on Wenger's face when his team slips down the table in the final stretch of the season. Personally, I'm looking forward to celebrating with José Mourinho after a glorious Manchester United victory at Stamford Bridge.
Conclusion
Of course I'm excited for this game. The amount of money from my paycheck spent on FIFA Ultimate Team will confirm that. Let's be honest, I was going to buy this game regardless of how these trailers looked, but the introduction of "The Journey" and the Frostbite graphics engine definitely added to the excitement. We'll see more of the game at Gamescon later in the Summer, and I'm sure that there will be some additional announcements about Ultimate Team then. In the mean time, feel free to join me on the hype train.