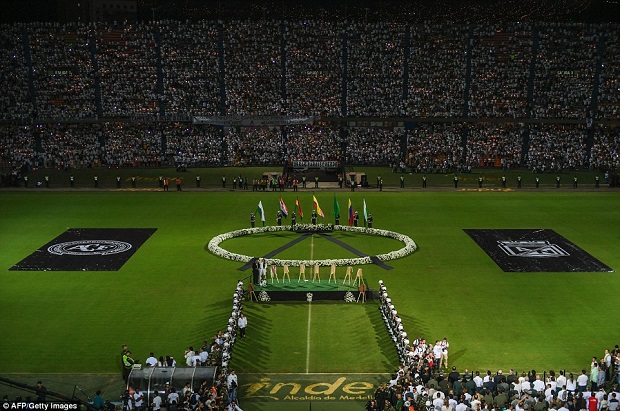 On Monday, the sporting world was devastated by the news that Brazilian club Chapecoense ACF was involved in a horrific plane crash on their flight to Colombia for the first leg of the Sudamericana final. In the crash, 71 passengers of the 77 passed away, and only three players that were rescued were able to survive their injuries.
This tragedy shook not just the soccer community, but the global community as a whole. Memories of the 1958 Munich Air Disaster with Manchester United and the 2011 plane crash involving Lokomotiv Yaroslavl sprung to people's minds, and sympathy rushed in from around the world.
While the crash showed just how fragile life can be, it also showed how united the sporting world can be. Within hours of the crash's announcement, it appeared as if every club in the world had publicly announced their support for Chapecoense, and #ForçaChape was a globally trending topic on Twitter and Facebook.
Perhaps the biggest show of support came from the club that Chapecoense were on the way to play. Atlético Nacional made an official request to CONMEBOL that Chapecoense be awarded the Sudamericana trophy. We're still waiting to see the official word from CONMEBOL about the request, but it's hard to imagine them denying such a gesture.
Fellow Brazilian clubs also put aside their sporting desires and petitioned the Brazilian FA to allow them to help Chapecoense's talent pool. The clubs asked that they be allowed to loan players to the beleaguered squad without either side having to pay a fee. On top of that, they asked that Chape be protected from relegation for the next three seasons.
Joining the Brazilian league in offering up players was the Argentinian FA. The governing body made an official statement saying that their clubs would be allowed to loan players to Chape without a fee.
They also added, "We embrace our friends from the Brazilian Football Confederation and all the country which has not yet recovered from this pain, and as a tribute, Argentine football offers this solidarity contribution as a show of support."
EA Sports made a small gesture of support by giving every player in FIFA Ultimate Team access to Chapecoense's badge and kits.
Sure, some of these actions are more impactful, or more meaningful, but all of them form a bigger picture. Even though this beautiful sport can divide us at times, in the worst situations, we can all still come together as one big community.
The uniform wave of support and sympathy that flooded the Brazilian club showed the best side of almost every club and fan in the world. Of course, you're always going to have the outliers that only want to cause problems, but for the most part, everyone is on the same page.
I wish that this positivity and lack of animosity could've been caused by something that wasn't as terrible as this accident, but it provides a silver lining to an unthinkable tragedy.
I sincerely hope that this unbelievable support that the world is giving Chapecoense is not just a reactionary move after the accident that fades as quickly as it arrived. As much as these initial moves are nice to read about, it'll be the long term commitment to helping Chape that will make the real differences.