Before the Euros kicked off last month, a clash between France and Germany seemed to be destined for the final. Well, it was pretty close to happening. These two powerhouses have both gone undefeated through five matches, and now they'll face off in the semifinals on Thursday. It's hard to argue that any nation has been more dominant than these two during the tournament, and the winner of this titanic matchup will surely be considered the favorite going into the final. In this blockbuster fixture, who will be able to continue their European domination?
Let's start off with the Germans. The thing that worries me the most for Joachim Low's side is the impact that suspensions and injuries will have on their starting 11. Star defender Mats Hummels will have to watch from the sidelines after an accumulation of yellow cards. Sami Khedira, Bastian Schweinsteiger and Mario Gomez will all miss the match through various injuries. Three of those four absentees have started at least three times for the Germans this tournament, and Khedira had been in the starting 11 for every single match so far. In total, these players have combined for 302 caps and 62 goals.
Now, we have to take a look at who will replace these players against the French. For Hummels, Germany have been spoiled with talented center backs and I would expect Shkordran Mustafi or Benedikt Howedes to line up alongside Jerome Boateng. Both are talented defenders in their own right, but they don't have the same skillset of Hummels. You also have to wonder how the chemistry between Boateng and his central partner will affect the Bayern Munich defender's playing style. In the midfield, Khedira and Schweinsteiger generally occupied the same spot on the field with Schweinsteiger brought on to replace the Juventus player in the later parts of the match. Look for Emre Can to potentially work his way into the starting 11 in this defensive role. The Liverpool midfielder has yet to make an appearance this tournament, but better late than never I guess. For Gomez, Low might adjust his system and play Thomas Muller in a false nine role to accommodate the striker's absence. In conclusion, there are a ton of moving parts for the German coaching staff to maneuver going into Thursday's matchup.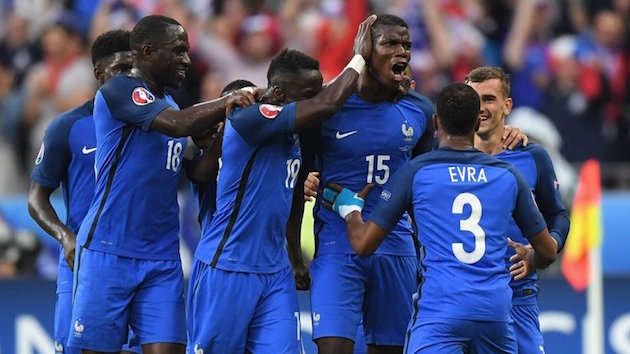 Moving on to the French side, the main story has to be their attack. At the moment, France has three of the top five scorers in the tournament. Antoine Griezmann leads everyone with four strikes; Olivier Giroud and Dimitri Payet follow closely behind with three apiece. Against Iceland, the French attack really hit their stride scoring five times against Iceland (the most goals by any team in a single match this tournament). Even though the German defense is missing one of their stalwarts, they're still an intimidating force. Excluding the penalty kick against Italy, Germany has yet to concede a goal from open play through five games. The French appear to have the tools necessary to pick that defensive lock and beat Manuel Neuer a couple of times. In my eyes, Payet has been the best player of the tournament so far for France and I could see him again being the man of the match against the Germans with a goal or two.
Another player to watch for France is Paul Pogba. After a slow start to the tournament, the former (and hopefully future) Manchester United midfielder has started to show why he's one of the most wanted players in Europe, at the moment. Against Iceland, he delivered a beautiful headed goal, and throughout the match his passing was top notch. At just 23 years old, this may be the most important match of Pogba's young career. It will be interesting to see how Germany tries to neutralize his influence in the center of midfield without Khedira or Schweinsteiger available for selection. If France loses, people will vilify Pogba for not doing more, just like they do to Lionel Messi and Cristiano Ronaldo. If France wins, he will cement himself as a national hero. So you know, no pressure.
As much as I have loved Germany's comprehensive victories this tournament, I think that the injuries and suspensions are going to be too much for them to overcome. France has so much attacking talent, and without key cogs of their defensive machine, Germany will struggle to cope. Final score: France 2-1 Germany